KINX's Data Center That Meets Global Standards
A number of global companies expanding into Korea have chosen KINX's data center.
This is because it is the operator of Korea's one and only L2-based IX that meets global standards and is connected to major ISPs by ultra-high-speed lines.
Be sure to experience KINX's outstanding server management service based on a backbone network with a capacity of over 1T and 24/7 technical support.
BENEFIT 01

Optimal Network Environment

KINX provides the best possible network environment through direct interconnection with major domestic and overseas ISPs. The optical terminals of six domestic telecommunication service providers are located in the same place, with customers allowed to select the line of their choice.

BENEFIT 02

Optimal Server Management Environment

KINX provide stable services with the best possible environment for server management, based on seismic design, a lock for each rack, emergency power supply, heating and cooling facilities and strict security.

BENEFIT 03

24/7 Customer Support Center

Full-time engineers at the data center monitor servers and networks. They identify relevant issues in real time and provide the information to customers as a way to ensure stable services.

BENEFIT 04

Excellent Accessibility

KINX data centers are situated in the Greater Seoul Area, making them highly accessible for customers. It is also convenient to relocate the services and to perform business operations.
Data Center Facilities
Building & Basic Facilities

- Seismically designed in reflection of the domestic seismic design standards
- Grounding in conformance with the international regulations
- Monitoring using a CCTV system
- Located in the heart of Seoul for excellent accessibility

Firefighting Facilities

- Automated fire detection system and emergency alarm facilities
- Clean gas fire extinguishing equipment(FM-200)
- Eco-friendly clean gas fire extinguishers

Cooling Facilities

- Maintain optimal temperature and humidity levels(23±2℃, 30~60%)
- Automatic alarm for leak detection
- Optimization of the air conditioning equipment with the double floor installation
- Cooling achieved with combined use of a thermostat and outdoor air in winter
Power Facilities

- Power Substation: Ensure the power reserve rate with a high-capacity, extra-high-voltage facility
- UPS: N+1 composition for stable power supply and 30-min battery backup time (in case of full load)
- Emergency Power Supply: Power supplied within 8 to 12 seconds of power failure for more than 12 hours of emergency power operation
- Power Supply for the Computer Room: Double power supply for each rack

Security Monitoring Facilities

- Around-the-clock monitoring and surveillance throughout the year
- Personal IDs and fingerprint reader system for access control
- Prompt response to failures with the NMS and What's Up System
- Providing business support and customer traffic analysis data
Data Centers & Services
Located in and near the Seoul, the capital of Koreawith excellent accessibility, KINX data centers are not only connected via data center interconnection (DCI),
but it is also possible to use the networks of overseas ISPs based on remote peering with global PoPs connected via submarine cables.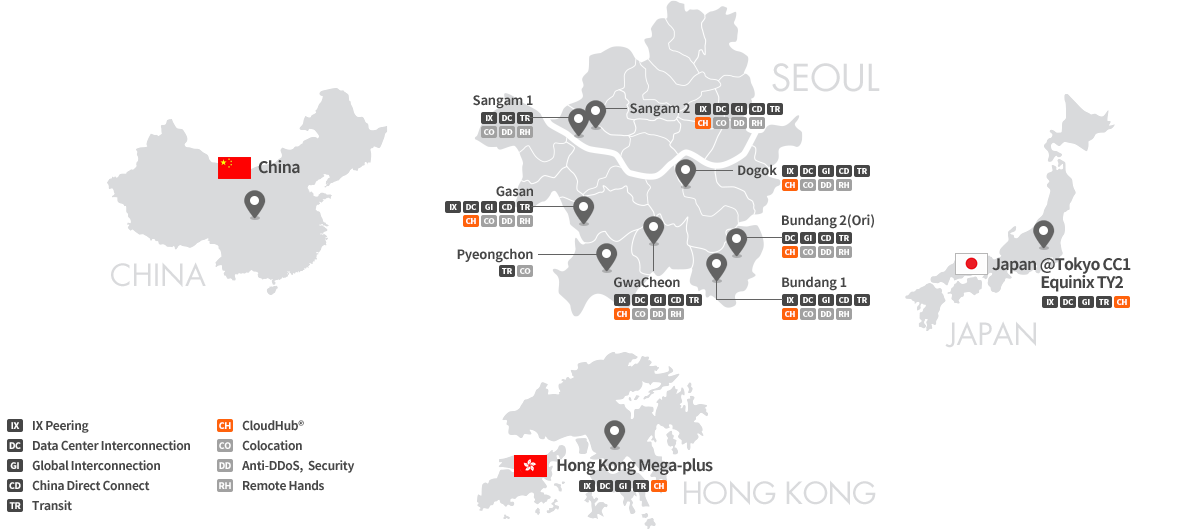 You can use the diverse data center services through colocation.
Are you ready to choose a neutral data center? Then, don't hesitate to contact us right now.