Solution for Video·Live Streaming, midibus®
Free Trial
Video and Live Streaming of midibus
Begin your 30-day free trial now
| | | |
| --- | --- | --- |
| · 50GB Data transfer | · 10GB Storage | · 1pcs VOD/Live Channel |
| · GPU Encoding 50hours | · Live 50hours | · HTML5 player |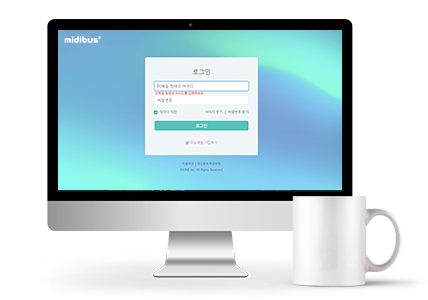 midibus®

KINX's midibus platform provides customers with all the necessary tools for uploading video content, from encoding, distribution, live streaming and analysis of video service. KINX is connected directly with numerous global ISPs, and thus able to provide excellent connectivity for a consistent VOD or Live streaming service. KINX can provide convenient video content service with KINX midibus.
Recommended to

Online education companies who require higher security to prevent leaks as well as video content that can be streamed on a variety of devices.

Companies that need to provide in-house training through secure video content that is accessible to employees only.
Media/broadcasting companies that need to provide real-time streaming content for lecture and sports to viewers.

Companies that need to be able to provide convenient and easy media services on their application to their subscribers through a variety of APIs.
Notable Advantages
Shorten VOD encoding time with GPU encoding
By using the video content specialized GPU Graphic card, video content can be encoded at twice the speed.

Seamless Live Streaming even for multiple events streamed at the same time
Even if the company is performing multiple live broadcasting at the same time, stable and smooth service is provided for DVR (Real-time rewind) and VOD auto-save.

A cost effective solution
Reduce cost with VOD encoding, automatic video file compression and Live pass through provided on midibus.

HTML5 Default player and secure player is provided
A built-in HTML5 player that can be played on any device, and a secure player (Customer must pay extra) allows access to original content, blocks capture of images and provides watermark security.

HLS-AES DRM prevents illegal security leaks
Provide customers with AE-128 DRM encryption with a HLS-format 128-bit key to prevent unauthorized access.

Various APIs are provided for connecting with midibus
An API that allows easy access to all midibus data, and convenient connectivity with LMS solutions.
(* Upload, encoding, media list, player, analysis/ statistics API, etc)

A buffer-free viewing environment from anywhere on the globe
KINX's CDN high performance infrastructure can quickly distribute video content anywhere around the world smoothly. Large-scale video content streaming is also possible.

Features

Customers can use VOD and live streaming service together for a more convenient service

Encoded files, subtitles, thumbnails, etc are grouped and managed together. Events for live streaming can be created and broadcast in real-time anywhere around the globe.

Upload / Automatic encoding / CDN Distribution

Customers can easily categorize and manage video Content while uploading. The files are automatically encoded to a format suitable for each viewing device, for more convenient distribution.

Automatic DVR, VOD save resources for live streaming service

For a seamless live streaming service, a stable infrastructure is provided. Real-time rewinding through DVR function, automatic storage for VOD after events and secure storage for the original video content is provided.

Ultra Low Latency for Live Streaming (CMAF)

During live streaming through HLS or MPEG-DASH, a small chunk is transmitted to the player, which reduces the average latency from 6 seconds to around 1 to 4 seconds.
(* The delay time may vary depending on the encoder environment and setting conditions, and it is necessary to check in advance whether the player in use supports)

Prevent illegal security leaks with DRM

DRM-applied content is DRM-encoded through designated player, and the DRM key server authentication. Unauthenticated accesses cannot be decoded because the DRM key is not issued and thus cannot be streamed or played.

HTML5 default player and secure player is provided

Even without requiring an alternative program to be installed, the built-in HTML5 player can play on all devices without requiring installation of a separate player. In addition, it is possible to solve the difficulties that arise from content security by preventing video recording and blocking access to the original content URL through the midibus Security player.

Providing custom players for each customer

Providing custom players for each customer You can directly experience the various functions of the midibus Player. Custom player settings can change the desired color, logo, playback behavior, and more. You can provide a customer-oriented player through custom player after experiencing various functions on the midibus Demo Player page.

A real-time detailed analysis is provided

This provides detailed viewing data information, from transmission volume, number of playbacks, popular video content and which section was played back in real time. Customer can check view reaction in real-time and derive meaningful analysis results to increase viewer satisfaction.
Rates & Plans

Preview of midibus®

Media File Management

The encoded file, subtitles, thumbnail images, etc. making up the video are grouped into a "media" unit for management.

Easy Video Distribution

The distribution source such as direct URL and iframe code is automatically generated without the process of applying a separate CDN.

Encoding Settings

You can specify detailed encoding conditions for automatic encoding in a format suitable for various devices.

Providing Detailed Statistics in Real Time

Detailed information such as the amount of data transmitted, number of views and playback sections for the video content is provided in real time.
For inquiries regarding the
Video Streaming, midibus®