Colocation and Hosting Based on Optimal Network Environment
Colocation/Hosting

This is a service through which the customer's servers are professionally managed
at a data center of KINX boasting an optimal network environment.

The colocation service presents the customer with a space in KINX's data center for their servers and network equipment, in addition to providing support for server operation and management. As for customers without their own servers, KINX offers a server hosting service, through which high-performance servers are leased. It is possible for customers to gain ownership of the leased equipment at the end of its first contract period.

Using the colocation/hosting services of KINX, you will be able to enjoy great savings compared to managing the servers on your own. Plus, you will experience faster Internet speed, as you will be directly connected to the backbone network of KINX. Not only that, you will be able to provide your services with greater efficiency and reliability by opting for a wide range of add-on services such as backup, security and monitoring.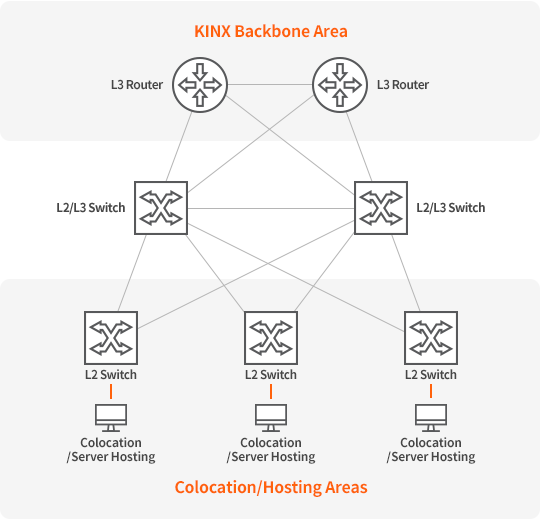 Characteristics
Optimal Network Environment Using IX Network
Providing Korea's one and only L2-based IX and direct connections to the domestic and overseas ISPs with super-high-speed lines

Large-Scale Backbone Network Used by 17% of Domestic Internet Subscribers
Enabling reliable Internet service based on KINX's large-scale network backbone that transmit the traffic of 3 million Internet users in Korea

Unlimited Daily Traffic
Ensuring a 100Mbps dedicated line (based on a full rack) that is fast with a sufficient bandwidth and providing additional lines at a reasonable price to help cut costs

Various Add-On Services
Offering diverse add-on services for server operation such as integrated operation and management, backing up the database, database clustering, blocking DDoS, security, software rentals, reports, etc.

Colocation Products

Half Rack + 50Mbps
Full Rack + 100Mbps
Line
50Mbps dedicated line
100Mbps dedicated line
IP
10
30
Power
5A
10A
Basic Service
Domain registration (10 domains)
Domain registration (20 domains)
Real-time network monitoring, Network Operation Center for 24/7, failure notification and emergency support, technical support
※ Based on the services provided in KINX Gasan Center
Servers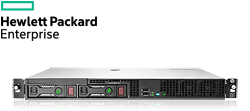 HP DL320e G8
CPU : Intel® Xeon® E3-1231v3 4Core 3.4GHz
RAM : DDR3 4GB
HDD : SATA 1TB

More
Server Spec
Product info
Details
Processor
Type
Intel® Xeon® E3-1231v3 4Core 3.4GHz
Processor Count
1ea
Cache
8MB L3 Cache
Clock
3.4GHz

Memory
Type
4GB DDR3 UDIMMs
Max #
4ea

HDD
Drive bey
Max 3.5inch 4ea or 2.5inch 8ea HDD/SDD
Disc option
SATA 1TB

Network
LAN Controller
1Gb 330i Ethernet Adaptor 2 ports

Outer Interface
Video
1ea
USB
4ea
Serial
1ea

Power
Power supply
250W



Technical supports

KINX DNS settings & Domain registration (5)

24/7 network monitoring

24/7 customer services

Notification of error and correspondence

Supports to install

[Windows]

Windows 2000/2003 OS installation

MS SQL & IIS (Web, FTP) installation

Remote access terminal installation

DNS installation

Windows Media Service installation

The latest service pack

The latest security patch

OS based security setting

Windows & SQL original license

[Linux]

Cent OS 6.5, 7.0, Fedora Core X installation

APM(Apache + PHP + MySQL, etc.) installation

Other Linux versions installation

The latest security patch

OS based security setting
Costs
Duration
12 months
Payment
2months prepayment(flexible payment schedule), surtax excluded
Contract condition
rent(ownership transferred) / rent(non-ownership)

Network
Exceeded bandwidth
Additional costs (customers can set bandwidth limits)
International traffic
3% of the total traffic is provided (Max 20 Mbps) beyond this point, additional fees are charged

Changes on contract
Before the service
Installation fees are charged
Additional services
No additional fees (but 1 year longer contract duration)



Note
Basic bandwidth is 100M Dedicated(10Mbps guaranteed / unlimited daily traffic).
After renting a server for 12 months, ownership will be transferred to the renter.
Deposit will be charged additionally in case of renting a rack.
Costs of rack and network transits are included in monthly fees.
Add-On Services

Integrated operation and management

Backup

Software rental
· The integrated operation and management service is offered to the customers of KINX data centers.
· Only the servers, OS and network are managed through this service, and consultation with the person in charge is necessary for management of databases or programs that you have additionally installed for Internet service.
· The price quoted are the prices per server and the minimum contract period is 3 months.
· You must purchase the local backup disk necessary for backup, and additional charges may apply in case additional services such as database management, external server backup, etc. are requested.
Basic
Standard
Premium
Price
KRW 100,000/month
KRW 150,000/month
KRW 200,000/month
Monitoring
Real-time network checks
Troubleshooting
24/7 Hotline / Dedicated personnel / Troubleshooting and reports
Consulting
Consultation and quotation on OS change or system upgrades
Backup/Recovery
Not provided
Consultation on and installation of a backup scheduler / External backup (20G/5days)
Backup recovery in case of losing data / System recovery and reinstallation
Security
Not provided
Not provided
Shared firewalls
Technical Support
One-on-one technical engineer service / Support provided at all times
· The backup service is offered to the customers of KINX data centers. Fast and reliable backup is available using a dedicated network only.
· The pricing for the backup service will vary depending on the situation with the customer's server or the type of data that is backed up, so we advise that you consult our representatives to get a better idea.
· Reasonable price policy
· 24/7 backup monitoring. Daily and weekly backup reports are provided.
Backup
Price
KRW 300,000/month
Storage
20G (* KRW 10,000 per additional 10GB)
Costs of recovery
KRW 20,000 (for once)
Supported OS
Linux / Windows
Backup cycle
Daily backup (Incremental) / Full Back up every month
File & DB backup support
File Directory Backup
MySQL, MS-SQL DB Backup

(* contact us in case of using Oracle, SyBase, Informix etc.)


Files and DB recovery support
(OS recovery & recovery setting are not included)
· The software rental service is offered to the customers of KINX data centers.
· The ASP rates are subject to changes according to the software developer's policy. The rates for current ASP users can also be automatically adjusted after such changes.
· For the purpose of license verification, the account and specific port of the client's server can be requested.
· For other software programs such as OS and DB in addition to the products below, consultation with the manager is required.
Products

Windows Server 2016
Standard Edition

Windows Server 2016
Datacenter Edition
Price
KRW 29,000/month
KRW 181,500/month
Billing Standard
Up to 8 core with one license (the number of cores can be increased by multiples of 2)
Additional cost
KRW 7,250 (for two cores)
KRW 45,375 (for two cores)
Windows Server containers
Supported
Nano Server
Supported
OSE / Hyper-V containers
2
Unlimited
Storage features
(Including Storage Spaces Direct and Storage Replica)
Not Supported
Supported
Networking Stack
Not Supported
Supported
For inquiries regarding the
Colocation/Hosting

Comparison chart
Category
Features
Web
Standard
Enterprise
Scalability and Performances
CPU
(SQL Server Database Engine)
Limited to 4 sockets
or 16 cores
Limited to 4 sockets
or 16 cores
OS's Maximum
Max DB size
524 PB
524 PB
524 PB
High Availability
Additional support for
Memory and CPU
O
Security
Transparent Data Encryption
O
Extensible Key Management
O
Replication
SQL Server Change Tracking
Yes
O
O
Merge Replication
Subscribers only
O
O
Peer to Peer replication
RDBMS management
SQL Server utility control point
O
Report
Supported catalog DB SQL
Server edition
Web
Standard
or higher
Standard
or higher
Supported data source SQL
Server edition
All SQL Server
editions
All SQL Server
editions
Create the custom role
O
O
Alerting
O
Power View
O