An IX operator that's expanding its services to enhance customer value
KINX, which was founded for the purpose of providing a neutral IX, began operations by offering IX peering services to Internet service providers (ISPs) and content providers (CPs) and has since been expanding services that demanded by customers or increase their business value.

The data center built for smoother operation of the IX serves as the basis for providing colocation and connectivity. The global PoP set up to ensure a stable flow of global traffic helps expand these services globally. We have developed a content delivery network (CDN) service to deliver its customers' content with greater speed and stability and begun a cloud service to provide server infrastructure.

CloudHub, which connects the customer's server to cloud, enables high levels of multi-cloud and hybrid cloud computing.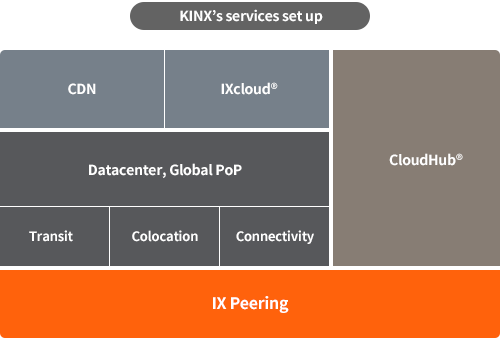 IX Peering

The first and the best Internet eXchange in Korea
Various companies including domestic and global ISPs and CPs have signed up as KINX IX members for interconnection via a peering network with a capacity of more than 1TB. As a neutral IX operator representing Korea, we are actively interacting with domestic and foreign ISPs and CPs by hosting the KINX Peering Forum (KINX) and through other activities.
Data Center

Neutral Infrastructure Preferred by Global Companies
KINX's data center offers the best possible infrastructure based on the network connecting domestic and global ISPs. A number of global companies has chosen KINX as a neutral data center operator where they can choose their peering partner.
Global PoP

Global PoPs for Global Traffic
In respond to the increased global traffic of IX members and data center customers, KINX is setting up global PoPs in major countries. Through these efforts, KINX is ensuring reliable network paths and bandwidths as well as the reliability of traffic flowing into and out of Korea.
Cloud

The Korea's First OpenStack-based Public Cloud
KINX IXcloud is Korea's first OpenStack-based public cloud, offering a service environment comparable to a global cloud at a reasonable price. Users can use various applications and add-on services, in addition to the core cloud functions, and build a public cloud as well as private, hybrid, and multi-clouds based on customized cloud consulting according to their user environment and needs.
CDN
(Contents Delivery Network)

Fast Delivery of Content Domestically and Globally via Large-Scale CDN Farm
Content delivery network (CND) is a technology that enables a more stable delivery of content such as images, videos and other files. By building a large-scale CDN farm and connecting it with global CDN farms and network infrastructures, KINX ensures fast speed and high reliability in content delivery anywhere in the world. KINX offers various types of CDN products that suit diverse customer needs and offers midibus, an integrated management solution for video streaming that it has developed on its own.
CloudHub®

Network Infrastructure Solution Optimized for Cloud
Cloud expansion is made possible through the network infrastructure that is interconnected with famous cloud services at home and abroad. It is possible to build a hybrid cloud for connecting physical resources with a cloud or a multi-cloud, which involves connecting two or more clouds, in addition to combining a wide variety of other solutions. With excellent connectivity and network operation capacity, KINX is capable of building cloud infrastructure in a wide range of different forms.