Strong Security System for Blocking External Access
Firewall

It is a powerful security system that blocks external access by shutting down all the ports except for the ones used to provide the services. This prevents network security incidents, blocks external threats or illegal traffic, and allows only normal traffic.

* For details, please consult with the person in charge. Additional charges may apply depending on the service environment or customer requirements.
Juniper SRX Series

Cisco Firepower Series

Fortinet FORTIGATE Series
Configuration Diagram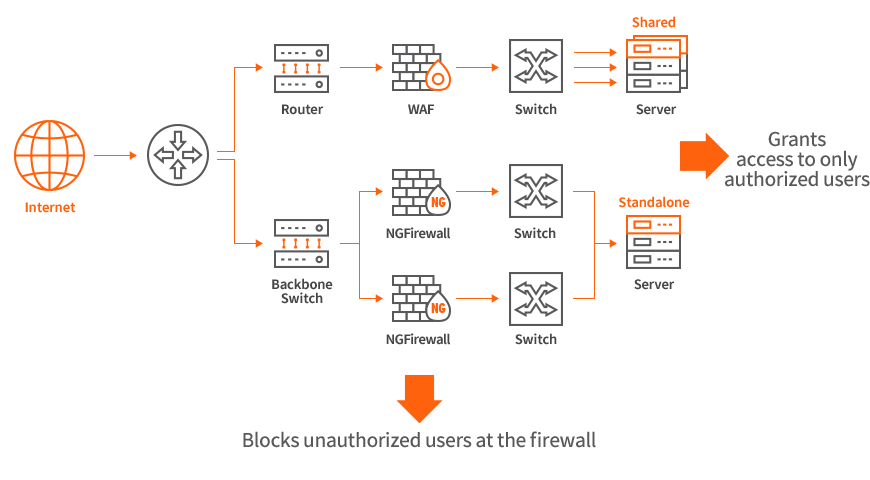 Features

Category
Shared Firewall
Standalone Firewall
Bandwidth
Less than 5Mbps
5Mbps~100Mbps
Firewall
Shared
Standalone
Port Restriction Service
Applied
Applied
Monitoring Service
Around-the-clock performance monitoring
Remote updates
Remote control of the firewall system
Real-Time Log Backup
3 months
3 months
Services Provided at Customer's Request
Monthly monitoring service report
Analysis of security vulnerabilities
Security consulting
Monthly monitoring service report
Analysis of security vulnerabilities
Security consulting
Network impairment/performance monitoring
· The firewall service is a type of port restriction service, and blocking of intrusion via the service ports (open ports) is not guaranteed.
· To prevent service port intrusions, you must use an additional web firewall service.
· The customer is responsible for the firewall security (rules setting, etc.) policy that they have requested.
· In the event of a problem with the security equipment (firewall), the security service may be temporarily suspended to recover and replace the security equipment.
· Monthly monitoring reports are provided in the form of a problem analysis report for the servers in which a problem occurred (upon customer request).
· This is a firewall monitoring service provided through InfoSec, an information security company.
Around-the-Clock Monitoring Service

Even if you have excellent equipment or solutions, you won't be able to prevent an unforeseen attack without an engineer with professional expertise and skills in this area. Our engineers will actively respond to network problems and various adverse situations and help keep your services running 24/7 without any interruptions.
Category
Products
Integrated Event Monitoring
Around-the-clock monitoring for network impairments and performance
Around-the-clock monitoring for system impairments and performance
Around-the-clock monitoring for security event
Around-the-clock impairment/failure monitoring and response
Proactive Response and Real-Time Response
Proactive network impairment monitoring and response
Response to intrusion attempts by primary and secondary response teams
Consistent handling from event report from the customer to completion
Operation of the CERT Team
Analysis of trends regarding new vulnerabilities reported daily from around the world
Real-time change analysis (threat rate), risk levels of vulnerabilities and latest analysis report
Signature registration for vulnerabilities of service ports
Reporting Service
Monthly service reports
Impairment handling reports
Help Desk
Tech support for security
Service improvement and complaints handling
For inquiries regarding the
Firewall