Samsung SDS
Service Connectivity, IX Peering
SectorIT·IC
Samsung SDS is an IT and software company within the Samsung Group. Through the 895G peering capacity by KINX, they were able to reduce transit costs and improves service quality by reducing the number of network hops.
#autonomousinterconnection #costreduction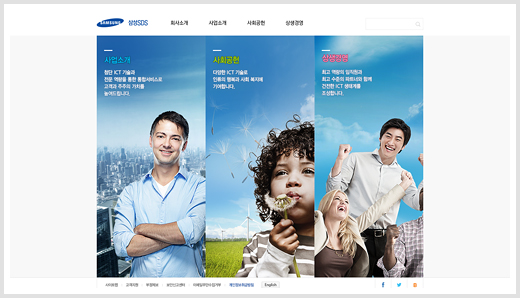 Introduction

The One and Only Global ICT Company Specializing in Software within Samsung Group
Samsung SDS, founded in 1985, is the only affiliate of Samsung Group that specializes in ICT related to software. They have been emerging as a global ICT company with world-class competitiveness by providing all-encompassing IT services such as business consulting, infrastructure construction, and cloud services, based on their abundant experience, a wealth of technology, and excellent partners and human resources.
Background

Seeking Measures to Effectively Reduce the Cost of IDC Operation
Samsung SDS operates IDCs located all across the country including Suwon, Gwacheon, Gumi, and Daedeok. The largest portion of the cost of running these IDCs is incurred from operating server facilities, electricity usage, and Internet usage. Samsung SDS sought a way to reduce the cost related to transit, as a way to reduce internet usage fees and the administrative cost of its IDCs in operation.
What did KINX do?

Proposing Local Peering and DCI as Alternatives to the Costly Transit
Previously, carriers engaged in transit-type traffic exchange, but they began using KINX's local peering service and Metro Connect as a new alternative.
Local peering, a service that is solely offered by KINX in Korea, enables mutual exchanges of traffic on a settlement-free basis with some 40 peering members including major ISPs, SOs, and CPs in Korea based on an 895G peering network. This helps not only improve the Internet quality but also reduce the connection cost. At present, 3 million people, accounting for approximately 17% of all Internet subscribers in Korea, access the Internet via KINX.
The Data Center Interconnection (DCI) service, on the other hand, involves the use of dedicated Internet lines for enterprises that directly connect the L3 switch with the customer's data center network using Metro Ethernet technology. KINX presents advantages in that a dedicated line optimized for the customer's infrastructure environment can be selected out of the dedicated lines of various carriers.
View Details about 'IX Peeirng – Local Peering'
View Details about 'Connectivity – Data Center Interconnection'
Effect

Improved Network Performance and Reduced Transit Cost
By using our local peering service, Samsung SDS was able to reduce the number of network hops between the points compared to the transit method, thereby gaining the ability to provide faster and more reliable service. Furthermore, the cost of exchanging traffic was drastically reduced compared to the transit method.