A Solution for Web shell and Malicious URL Detection in Real time
Web Server Safeguard
Web server safeguard prevents security accidents by detecting and automatically blocking web server malware in real-time. Protect the system from forgery of website, theft of database personal information, and web server file system attacks, etc. Protect the web server and WAS by detecting and quarantining in real-time the web server and malware URL that allows mass attacks through APT (Advanced Persistent Threat), which is a persistent threat with intelligence.
Price

| Category | Monthly Rate (VAT not included) |
| --- | --- |
| Web Server SafeGuard | KRW 75,000 |
The control service is provided by the affiliated company 'GABIA'.

How to Use


1. Apply for the web server safeguard service.
2. Install the web server safeguard agent on the applied VM.
3. Once the setting is complete, proceed with the full inspection and positive/false-positive detection.
4. Normal web server safeguard service is available after completion.
Detailed Features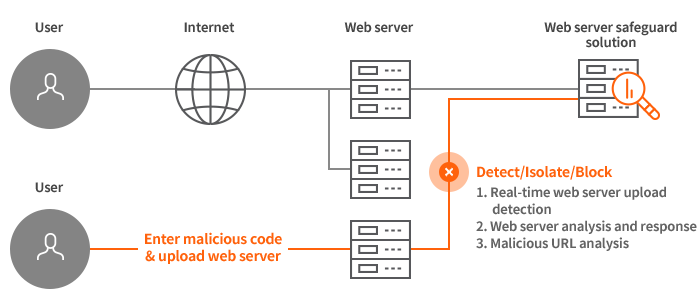 Real-time safeguard




- Support real-time safeguard and quarantine of web server and malicious URL
- Detect the attacker's IP through web log analysis
- Detect personal information in web server and WAS linked DB
- Detect and protect the change in WAS setting files, which is a vulnerability of the malware web server.
- Support automatic quarantine and send notification to the manager
Web server pattern




- Obtaining web server patterns that are evolving and DB where malicious URL can be detected.
- Signed a pattern sharing contract with Industry-academic cooperation, Korea Internet & Security Agency (KISA)
Service Orientation




- Impact on web service by shell monitor agent
- Server resource (CPU and memories) control possible
Recommended to

Enterprises in need of establishing a strong security system according to the latest security technology and trend

Enterprises in need of detecting and blocking attacks through vulnerabilities in web source code
Enterprises that experienced or are concerned about data leakage attempts from outside for important personal information
For inquiries regarding the
Web Server SafeGuard