Backup solution for easy storage and restoration of data
Backup

This is a backup service that can be used in any infrastructural environment for backing up the latest version of the server OS and even database that are difficult to restore. With IXcloud, you can easily store and restore data in a cloud environment and a local domain using the internationally recognized Acronis cloud backup solution.
Price

| Category | Monthly Rate (VAT not included) |
| --- | --- |
| 1 VM agent | KRW 5,000 |
| Storage size: 50GB | KRW 15,000 |
* You will be billed based on the number of backup agents installed on the instance and the amount of storage used (in increments of 50GB).
- Agent: Daily rate applied for less than 15 days of use and monthly rate applied for 15 days of use or longer
- Storage: Charges applied based on the peak usage in the month
Example) If you have installed an agent on one VM (and used it for 15 days or longer) and used 250GB of storage, your bill for the month will come out to be KRW 80,000 (5,000 + 15,000 x 5).
How to Use


1. Log into the IXcloud dashboard and sign up for the backup service.
2. When you sign up for the server, an account activation e-mail will be sent to the e-mail address you have entered. Follow the instructions to proceed with the account activation.
3. Once your account is activated successfully, you can log into the backup service.
4. Log into the backup service to install the agent or configure the settings.
Log into the Dashboard

Advantages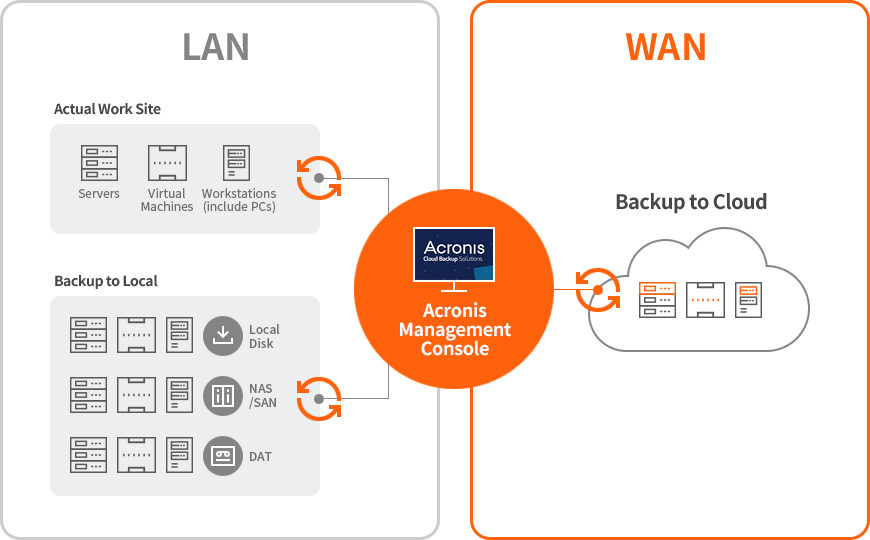 · Providing a hybrid backup function that allows you to store and restore data in a cloud environment and a local domain
· Supporting backup and recovery in various environments (Windows Server 2003~2016, Linux, etc.)
· AES-256 encryption and SSL-exclusive security channel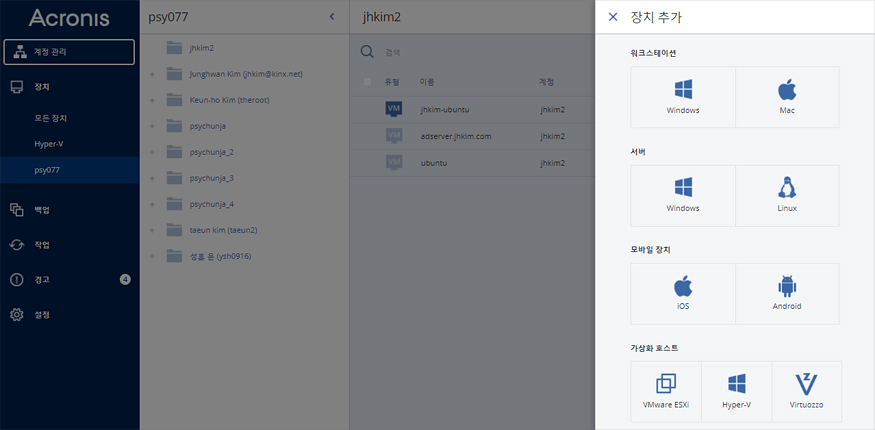 · A convenient web console designed for user convenience
· BareMetal backup (recovery without an OS)
· Various types of heterogeneous restoration
Detailed Features and Supported OS
· Detailed Features
| Features | Description |
| --- | --- |
| 1. Uninterrupted installation | Software installation and immediate backup without needing to reboot |
| 2. Live backup | Can perform other operations during backup without having to shut down the system |
| 3. Integrated management | Centralized management of up to 1,000 clients |
| 4. UEFI booting support | Improved performance through various interfaces compared to BIOS method |
| 5. Automated scheduling | Providing scheduling templates such as Hanoi Tower, GFS, and Custom |
| 6. Support various OS version | Supporting Windows Server 2003~2016, Linux, etc. |
| 7. Diverse backup modes | Full, incremental or differential backup in units of partition, file, or folder |
| 8. Heterogeneous environment restoration | System and data transfers to other types of servers/PCs |
| 9. Virtualization migration and backup/recovery | Migration of VMware, Microsoft, Linux, Citrix, Redhat, Oracle and Parallels-based virtualized environment |
| 10. Simultaneous backup of virtual machines | Simultaneous backup of up to 10 VMs registered on the host |
| 11. Automatic replication of backups | Automatically replicate backed up archives to up to 5 different types of storage media (SAN, NAS, Tape, FTP, etc.) |
| 12. Removal of duplicate data | Removal of duplicate data to additionally utilize up to 80% of the disk capacity |
| 13.MBR (booting domain) restoration | Can restore just the MBR |
| 14. LAN-free backup | Direct access to storage segments directly connected to SAN |
| 15.Encryption support | Backup images Password setting and AES 256Bit encryption |
· Supported OS
Supported OS
Supported (O/X)

Windows

Windows Server 2003~2008

○

Windows Server 2012/2012 R2

○

Windows Server 2016 (Excl. Nano Server)

○

MS-SQL

○

Linux

Ubuntu 9.10~16.04

○

CentOS 5.x~7.3

○

MySQL

○
* Every type of OS is available on IXCloud. For more information, please refer to the User Guide.
Download the User Guide

Recommended to

Companies that want to manage the backups of all the VMs in operation at the same time

Companies that want to freely designate backup options and scheduling
Companies that want to effectively prepare against damage caused by ransomware, viruses, etc.
For inquiries regarding the
Backup