Cloud web firewall that checks
vulnerabilities of website and responds to attacks
Web Firewall

The DeepFinder web firewall is a cloud web firewall that can be set up in various kinds of environments including on-premises environments, public clouds, private clouds, and hybrid clouds. Full SSL inspection is possible without compromising performance and speed, and autoscaling is also supported. With superb speed and availability, it offers protection against all kinds of web service security threats in a cloud environment.
Price

| Category | Monthly Rate (VAT not included) |
| --- | --- |
| DeepFinder web firewall | KRW 150,000 |
How to Use


1. Check the instance where the web firewall should be installed and apply for the service.
2. KINX's Operations Team will install a firewall in the designated instance.
3. The security and monitoring service provider will contact you to configure the detailed security settings.
4. After the security settings are configured, you will obtain the designated security services.
Log into the Dashboard

Feature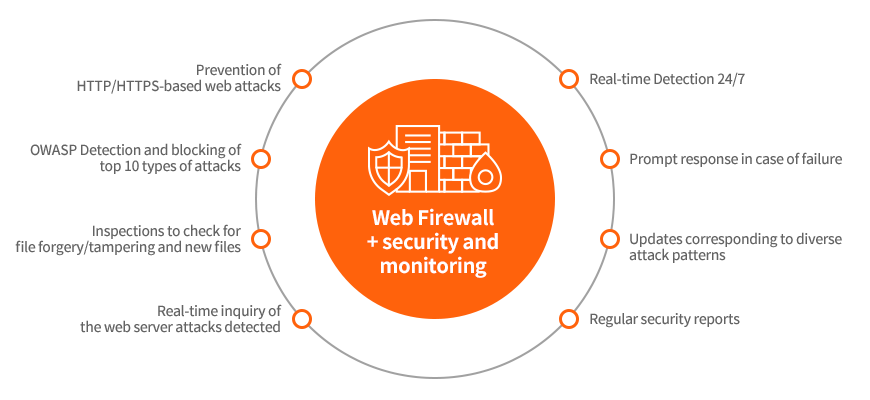 HTTPS/HTTP 1.0/1.1/2-based web attack response
Detection and blocking of Layer7 DoS attacks, brute-force attacks and dictionary attacks
Response to OWASP Top 10 and PCI DSS 6.6 requirements and top 8 vulnerabilities noted by the NIS
Inspection of response data (detection of leakage of critical information)
Inspection of uploaded files: Registration of binary (raw data) signatures
Inspections to check for file forgery/tampering and creation of new files by path (URI)
Security policy for open software (bulletin boards, online shopping mall solutions, blogs, etc.)
Detection and blocking of file upload restrictions bypass attacks
URI-based IP control (X-Forwarded-For identification)
Scope of Support

Supported OS
Supported Web Server/Application
MS Windows
(2003, 2008, 2012, 2016)

· IIS 6.0, IIS 7.0, IIS 8.0, IIS 10
· Apache 2.0, 2.2, 2.4
· Java EE6-certified servers or of higher specification – Tomcat, Jeus, WebLogic, WebSphere
※ In the case of WAS Agent, only Server 2008 and higher are supported

Linux Kernel 2.6.x and higher
(32bit, 64bit)

· Apache 2.0, 2.2, 2.4
· NGINX 1.8.1, 1.10.X and higher
· Java EE6-certified servers or of higher specification – Tomcat, Jeus, WebLogic, WebSphere
Recommended to

Companies that need to build a powerful security system in line with the latest security technology and trends

Companies that need to detect and block attacks on web vulnerabilities that are difficult to respond to with just firewalls and IPS/IDS
Companies that do not have any in-house employees to manage their servers
For inquiries regarding the
Web Firewall