Connecting IXcloud with external network
through encrypted tunneling network
IPsec VPN
IPsec VPN is a IPsec based private network which protects connections among networks. This encrypted tunneling network enables clients to access to IXcloud more securely and reliably. In addition, it prevents any loss or damage of your data by strong encryption and authentication method.
Price

Solution
Monthly Rate (VAT not included)
Note
IPsec VPN
Free
- Additional charges for VM and outbound traffic to be applied.
- Required VM: 2Core 2GB(1EA)
* The charge for traffic will be measured by the sum of traffic usage.
How to use


1. Subscribe to IPsec VPN service
2. KINX operation team installs an IPsec VPN on the customer's VM
3. Setup for encrypted tunneling
4. IPsec VPN enabled
Log in on the IXcloud® console

Characteristics
Supports strong encryption and authentication




IPsec provides the AH protocol, which authenticates the sender and maintains data integrity, and the ESP protocol, which encrypts data to ensure confidentiality.
Strong security protocols help keep data in transit safe.
Differentiated Security Mechanisms




As a security mechanism, a transport mode that provides security for both terminals of the connection and a tunnel mode that provides network security between communication terminals are provided.
More secure communication is possible through two differentiated mechanisms.
Flexibility and Scalability




Strongswan is an open source based VPN solution with high compatibility and flexibility.
Its highly scalable and modular design allows easy integration with third-party vendors' firewalls or VPN devices.
Cost effective without any integration fees




High-quality IPsec VPN service at a reasonable price by paying only the fees for instances, traffic, and KDX (when redundancy is configured) based on pay-as-you-go without any integration fee.
Configuration

Single Configuration

Redundant Configuration
IXcloud Single Configuration
- Create a VM for IPsec VPN on the client's existing IXcloud resources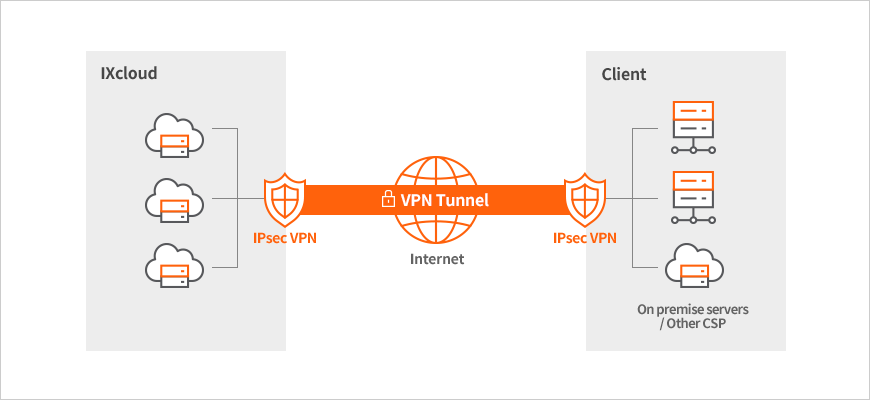 IXcloud Redundant Configuration
- Create a VM for IPsec VPN on each of the client's existing IXcloud resources (R1, R2).
- Also available to setup a redundancy and HA by using KDX (KINX Direct Connect)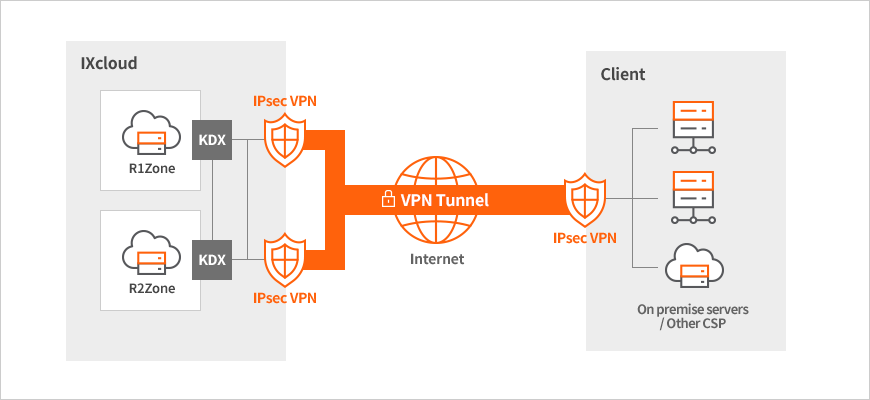 Recommended to

An enterprise which requires high security on network with CSPs and on-premise to set up its multi/hybrid environment.

An enterprise with frequent access from external servers to internal corporate networks.
A client who requires high security to communicate with its servers through encrypted tunnel.
For inquiries regarding the
IPsec VPN