Dedicated Line Connection Between Data Centers Through DWDM
Data Center Interconnection

It is possible to configure an optimal network environment by connecting your resources used at a data center with the resources or services of other data centers through dedicated lines.
Advantages
Fixed Line for 24-Hour Use
With the use of a fixed line, information can be transmitted securely with stable communication quality at all times.

Infrastructural Competitiveness
KINX, a specialized network service provider, helps improve the network performance, through which more reliable services can be provided.

24/7 Technical Support
KINX provides integrated management service through the monitoring activities of network engineers, in addition to a response system that has been established to quickly respond to various incidents, accidents or system malfunctions.

Reasonable Billing System
Fees are charged at a flat rate regardless of the access time, which means that you can cut costs if a certain amount of traffic is generated each month.

Configuration

KINX data centers are situated in the Greater Seoul Area, making them highly accessible for customers. The IDC cluster equipped with excellent IT infrastructure facilitates network expansion and connection through data center interconnection.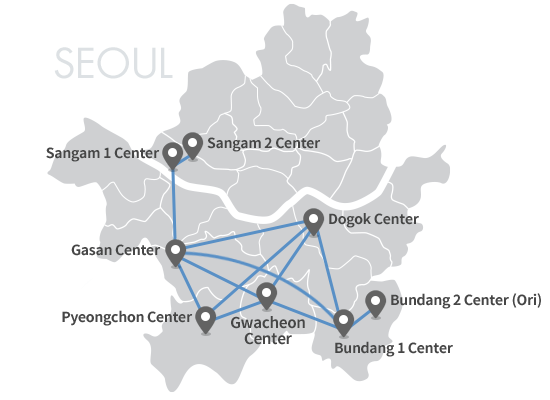 Leasing Dedicated lines

There are dedicated Internet lines for companies to directly connect their service resources to the KINX data center. These dedicated lines for telecommunications service providers are optimized according to their business as a way to ease any concerns about information security.

Products

Category
Description
Speed
Can conclude a contract in the unit of 1M
1M / 5M / 10M / 20M / 30M / 50M / 100M / Negotiations for more than 100M
Contract Period
Longer the contract term, greater the discount rate
No contract / 1 year / 2 years / Up to 3 years
* Inquire about the price
* Changes may be made according to the contract conditions, and the details are subject to negotiation.
References
"By connecting the global cloud service operated by the Gasan Center to KINX Metro Connect, we have reduced traffic costs, and we no longer have to worry about the security of our company's valuable information."

"By establishing KINX Metro Connect among geographically separated offices, we were able to kill three birds with one stone: information security, improved network reliability and improved intranet quality."

For inquiries regarding the
Data Center Interconnection