Successful migration with cloud experts
Considerations for Migration

"I'd like to adopt a cloud, but have no idea where to start."
"I made a migration plan, but couldn't go any further as there was a lack of understanding of the cloud."
"I just have no clue how to operate and keep the infrastructure after adopting the cloud."

A number of companies are looking to introduce cloud capabilities as a means to realize business innovation. This is to take advantage of the flexibility and scalability offered by cloud systems in order to raise cost efficiency. But to achieve the best possible results, it is important to analyze utility after transferring resources from a physical environment to a cloud environment and then review the transfer plan.

If the resources are transferred with simply a vague idea about cloud computing instead of making the necessary preparations, you will only waste time and money. You will also encounter various other problems if you failed to consider maintenance and operation after the move.

Therefore, it's crucial that you pursue cloud migration together with an experienced partner who can provide you with professional consulting, based on an in-depth analysis of your company, and guide you through the entire process from planning to execution and cloud operation.
IXcloud®
Migration Procedures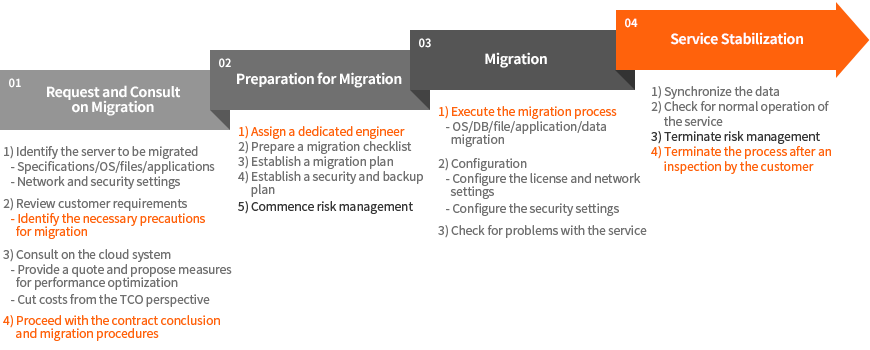 · Risk management

IXcloud® Migration Methods
Re-host


• This involves migrating the OS, data, and applications as they are ('lift and shift').
• All source codes are used as they are, without any modifications.

Recommended in
the following cases

– Want to minimize cost and time
– Want to immediately cut costs associated with the legacy infrastructure
– Want to migrate commercial applications where the codes cannot be changed

Re-platform


• It is similar to the re-host method, except that the codes are partially modified.


→ Source codes are partially modified to the extent that the core architecture of the application is not changed as a way to take advantage of the strengths of cloud computing to the fullest.

Recommended in
the following cases

– Code editing does not affect the application
– Desire to take advantage of cloud computing
– Existing source is not working on a cloud system

Re-factoring/Re-architect


• The application architecture is reconstructed to be optimized for a cloud environment.
• The source code is entirely edited for cloud computing.
• It may take longer than the other methods as the service must continue to be available even while changing the source.

Recommended in
the following cases

– Want to make most of the cloud functions
– It is impossible to improve the application performance in a legacy environment
For inquiries regarding the
Migration