Guaranteeing Fast and Reliable Content Delivery
CDN

This is a technique to deliver content to internet users safely and quickly. It is mainly used in sending multiple image files, downloading large files, streaming videos smoothly, etc. It sends the contents from the origin server of the customer and provides a faster and more stable network environment by distributing from the nearest place to the users of the customer. It is especially useful for game companies where large files need to be distributed at once, shopping malls where multiple images need to be loaded, E-learning website where video classes need to be provided, etc.

CDN in Cloud Environment

By configuring the settings just once, content can be distributed domestically and overseas simultaneously. By distributing the content stored in a volume or storage used in cloud instances (virtual servers) to CDN servers located in various regions of the world, it is possible to deliver the content to users around the world in the fastest and most reliable way.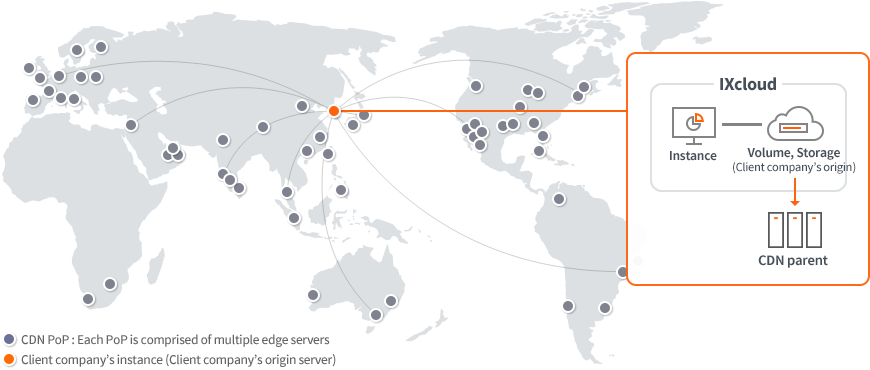 Reasons for using CDN
Instead of directly delivering the content from the client company's instance (virtual server) to the user, it is transferred via a CDN edge server, which not only improves transfer quality but also reinforces security.
Connect your cloud instance (virtual server) to the CDN service and upload the content to the storage, then you will be able to start using the service right away.
By configuring the settings just once, you can offer the best transfer speed to your local and overseas users.
Main Features


Web/mobile content delivery
· Capacity on demand, allowing an increased capacity in case of a sudden surge in traffic
· Purge (edge server file synchronization when editing the original) function
· Delivery of content to any country you want

Video transmission/playback
· Supports various browsers, devices and formats
· Video player API access


Game file download (client, patches, etc.)
· Prevention of service interruptions caused by a surge in traffic
· Transmission speed limited according to the maximum download bitrate
Utilization


Web/mobile content delivery →

Online shopping malls with numerous images and various products on the website
· Need to build a web server on your instance and expose a lot of content to your site
· Need to maintain uniform site performance worldwide, as you have a large overseas customer base

Video transfer/playback →

e-Learning site and other sites that mainly provide video content such as movies and news
· Need to store large dynamic files such as entertainment content and provide high-definition streaming services
· Need to provide stable video service considering the service characteristics such as e-Learning

Game (PC, mobile) download →

Developers and publishers launching/operating games
· Need to distribute client and patch files for a game launch
· Providing game services to overseas users
Price

Monthly fee = Monthly transmission fee + Monthly request fee + Storage fee
· Monthly transmission fee = Sum of all charges incurring from the usage segment in relation to the total amount of data transmitted in the month
· Monthly request fee = Charges incurring from the total number of CDN requests in the month
· Storage fee = Charges incurring from the average usage in the month (optional)
Category
Rate
Charging Bracket
Fee
Local
Global
Transmitted volume
GB/month
no more than 200GB
KRW 70
KRW 75
200GB to no more than 1TB
KRW 55
KRW 60
1TB to no more than 10TB
KRW 50
KRW 55
10TB to no more than 100TB
KRW 45
KRW 50
Over 100TB
KRW 35
KRW 40
Storage
GB/month
-
KRW 80
Number of requests
http
10,000 requests/month
-
KRW 11
https
KRW 15
* VAT not included
For inquiries regarding the
CDN