Major global Internet transit provider in Korea
Transit


Since the six domestic common carriers are interconnected to KINX, our customers can freely select and use circuits by considering relationships with common carriers, charges, etc.
Domestic Transit
· KT, LG U+, SKT, SKB etc.

International Transit
· BBIX, GCX, HKIX, KT, Hurricane Electric, NTT, PCCW, Telstra etc.

Strengths
of using Transit
with KINX
Optimal routing path
We are able to provide optimized routing paths based on the interconnection between major ISPs and neutral KINX IDC.

KINX Transit & Tier1
ISPs
Tier1 ISPs & KINX are co-providers of transits from multiple ISPs.

Easy access to
purchase various transits
It is possible to purchase a transit from any carrier, if you are with KINX

KINX
Transit Interconnection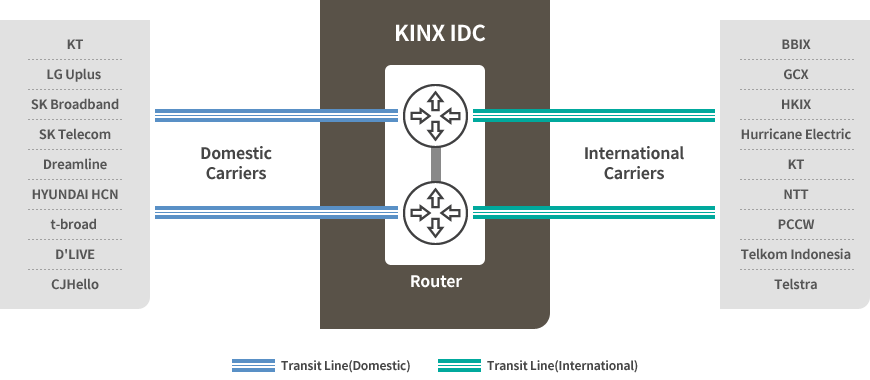 KINX
Transit Case
"VT is currently using domestic and international transits from KINX, to provide high quality of online streaming services for Vietnamese who live in Korea, China and Japan."

For inquiries
about
Transit