Offering Direct Connections to Major ISPs
Cross-Connect

A dedicated link between two points
· Direct connection between ISPs or between an ISP and a CP
· Customers can freely choose and connect with the ISP from the Meet-Me-Room (MMR)
· Customers can freely choose among various ISPs to build their network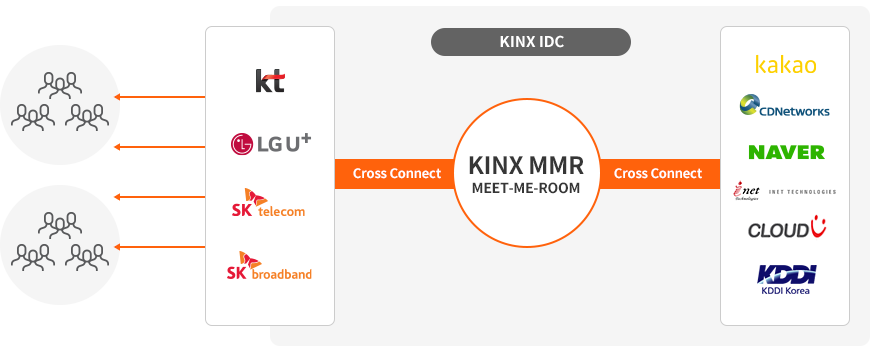 Advantages
Line Selection Made Easier
With the presence of all Korean telecommunication service providers in the buliding, you can freely select the provider of your choice, based on ISP's operation policies, business relations, and cost, among others.

Autonomous Line Interconnection Policy
Based on the backbone lines to the KINX interconnection center, you will be able to choose a telecommunications service provider based on the operation policy of customer, cost and etc.

Fixed Line for 24-Hour Use
With the use of a fixed line, information can be transmitted securely with stable communication quality at all times.

Reasonable Billing System
Fees are charged at a flat rate regardless of the access time, which means that you can cut costs if a certain amount of traffic is generated each month.

Configuration


Products

Service
Description
Cross-Connect(XC)

· Cable connection between two points

* Connection between KINX customers and ISP in the IDC(Customers-to-Carrier Interconnection)
* Connection between KINX customers in the IDC(Private Network Interconnection)

· Connection line types: Coaxial cable (RG-179) / UTP Cable (CAT-5) / Optical cable / Other
* Inquire about the price
* Changes may be made according to the contract conditions, and the details are subject to negotiation.
References
"Thanks to KINX cross-connect service for traffic exchange within the IDC without any bandwidth constraints, we were able to build a fast and reliable network without worrying about being charged based on traffic volume."

For inquiries regarding the
Cross Connect