Configure the optimal cloud portfolio with IXcloud®

Kubernetes
| | | |
| --- | --- | --- |
| · Intro | A quick and easy process to start Kubernetes | |
| · Container Registry | An Easy and Convenient way to manage Containers | Coming Soon |

Compute
| | | |
| --- | --- | --- |
| · Instance | A high-performance virtual server for quick construction and utilization | |
| | Virtual servers equipped with SSD volumes to ensure high-performance I/O | |
| | GPU virtual servers optimized for high-performance parallel computing | |
| | Automatic expansion/reduction of resources according to settings | |

Storage
| | | |
| --- | --- | --- |
| · Volume | Block storage with high availability | |
| · NAS | Mass storage shared with multiple instances | |
| · Snapshot | Snapshot backup for expansion and server backup | |
| · Backup | Backup solution for easy storage and restoration of data | |
| | Data file synchronization and sharing solution | |

Network
| | | |
| --- | --- | --- |
| · Network | Networking optimized for clouds | |
| | Automatic traffic distribution for optimal networking | |
| · CDN | Fast and reliable content delivery guaranteed | |
| · KDX | Multi/hybrid cloud connected to private network | |

Managed Service
| | | |
| --- | --- | --- |
| · Intro | Managed service that maximizes the value of the cloud | |
| | Successful migration with cloud experts | |
| | Advanced monitoring tools provided for instances of all user | |
| | Premium guide to optimizing cloud resources | |
| | HA solution, ensuring the high availability of the system | |

Security
| | | |
| --- | --- | --- |
| · Firewall | Powerful security system that blocks external access | |
| | Cloud web firewall that checks vulnerabilities of website and responds to attacks | |
| | Registration and integrated management of SSL certificates | |
| | DB security and access control | |
| | Connecting with external network through encrypted tunneling network | |
| · SSL VPN | SSL VPN Allowing Secure Access from the Outside | |
| | Real-time protection from various cyberattacks | |
| | Immediately prevents the damage of contents damage from malware | |
| | A solution for web shell and malicious URL detection in real time | |
Introducing IXcloud®'s premium features and services
We guarantee high satisfaction when it comes to our cloud quality.
SLA is a quantified measure of service availability and a standard to guarantee the service quality.
IXcloud provides a cloud service with guaranteed 99.95% availability.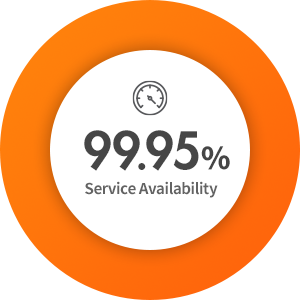 Based on availability
Compensation for Damages
Redundant Multi-Zone
Non-Redundant Multi-Zone
99.9% ~ 99.95%
10% of the charges
-
99.5% ~ 99.9%
20% of the charges
10% of the charges
99.0% ~ 99.5%
30% of the charges
20% of the charges
Less than 99.0%
30% of the charges
* For more details on SLA, see Chapter 7 Compensation for Damages in the Terms & Conditions of IXcloud service.
IXcloud® provides customized cloud consulting optimized
for business characteristics.
IXcloud proposes the optimal solution by combining various networks and infrastructure,
from a public cloud to a private cloud with enhanced security and data center with free line selection.

Cloud with experts is different.
Start the first step to cloud adoption now with IXcloud.