Check out the powerful lineup offered by IXcloud™

| | | |
| --- | --- | --- |
| · Instance | A virtual server created within minutes | |
| | Automatic expansion and contraction based on real-time monitoring | |


| | | |
| --- | --- | --- |
| · Network | Networking optimized for clouds | |
| | Automatic distribution of traffic for network optimization | |
| · CDN | Fast and reliable content delivery guaranteed | |
| · KDX | Connection to resources and private networks | |

| | | |
| --- | --- | --- |
| · Intro | Managed Services That Enhance the Value of Cloud | |
| | For a successful cloud, try migration | |
| | A monitoring tool is provided for all user instances | |
| | Optimization Guide for Cloud Resources | |
| | HA solution, ensuring the high availability of the system | |

| | | |
| --- | --- | --- |
| · Firewall | Powerful security system that blocks external access | |
| | Inspection and defense in relation website vulnerabilities | |
| | Registration and integrated management of SSL certificates | |
| | DB security and access control | |

| | | |
| --- | --- | --- |
| · Server | LAMP Stack, NginX, Tomcat, Node.js | |
| · DB | MySQL, MariaDB, Redis | |
| | Magento, WordPress, Drupal, Joomla! | |
| | Redmine, GitLab, Subversion | |
| · Other | Zabbix Server, Elasticsearch, OMV | |
Experience the Superior IXcloud
We guarantee high satisfaction when it comes to our cloud quality.
SLA is a quantified measure of service availability and a standard to guarantee the service quality.
IXcloud provides a cloud service with guaranteed 99.95% availability.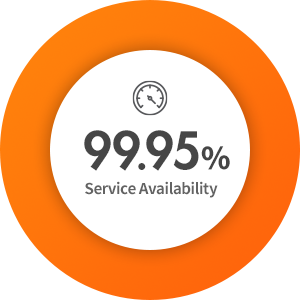 Based on availability
Compensation for Damages
Redundant Multi-Zone
Non-Redundant Multi-Zone
99.9% ~ 99.95%
10% of the charges
-
99.5% ~ 99.9%
20% of the charges
10% of the charges
99.0% ~ 99.5%
30% of the charges
20% of the charges
Less than 99.0%
30% of the charges
* For more details on SLA, see Chapter 7 Compensation for Damages in the Terms & Conditions of IXcloud service.
IXcloud Consulting: For Any Service, in Any Situation
You can use an efficient public cloud, a highly secure private cloud, and a physical server together at the same time.
Request consulting on the customized cloud services provided by IXcloud.

You are able to introduce cloud infrastructure successfully right now
through IXcloud™.
Are you ready to choose a cloud? Then, request consultation right now.