CoinTong
Service IXcloud®
SectorFinance
CoinTong is a cryptocurrency exchange app. IXcloud and KINX IDC were chosen as the infrastructure to open the exchange, which helped achieve high security and efficiency.
#costreduction #successfulservicelaunch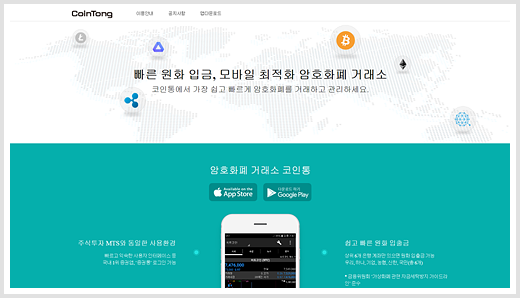 Introduction

CoinTong, Honest and Safety Cryptocurrency Exchange
CoinTong is a subsidiary of Tomato Group that entered the cryptocurrency market, based on the operating know-how of its parent company. Tomato Group is an investment and securities firm that provides investment information via the Internet, mobile platforms and securities information programs on cable TV. In relation to investment information, investment advisory, loans, overseas money transfers and settlement services, the Group has formed relationships with various businesses and government departments.
CoinTong launched its cryptocurrency exchange app in June 2018 and is successfully operating the exchange based on business acumen, excellent response to changes in the business environment, and the ability to plan services that meet the needs of Korean users with experience in using MTS.
Background

A Situation Where Neither IDC Nor Cloud Provides a Perfect Solution
CoinTong tried to solely focus on launching the app by building the optimal infrastructure that would address all the infrastructure-related concerns. Initially, they considered using IDC, but setting up all its infrastructure at an IDC would be quite costly and require a large amount of initial investment. Plus, the fact that it would take at least two weeks to procure the physical servers also seemed to be a problem. They then thought of using cloud as an alternative that would provide benefits in terms of cost and infrastructure resilience, but there was an issue with compatibility with the applications that were currently in use. On top of that, due to the nature of the financial sector, security was paramount, and thus a cloud was considered an unsuitable option.
What did KINX do?

Proposing Hybrid Cloud That Would Enhance Both Security and Efficiency
After carrying out an in-depth analysis of CoinTong's infrastructural needs, we provided professional consulting and proposed a hybrid cloud that involve the use of a physical server (IDC) and a cloud in combination, which would result in a highly secure and efficient system. The database server was set up as a physical server to address the concerns of application compatibility, while the web server and WAS server were built in a cloud environment to boost the operational efficiency of the infrastructure necessary for static and dynamic data processing. Also, considering that security was of the utmost importance considering that their services were financial, we proposed a global DDoS defense service.
View Details about 'Colocation – Colocation/Hosting'
View Details about 'IXcloud® – Compute'
Effect

Solving Infrastructural Issues with Hybrid Cloud and Enabling Successful Service Launch
By building a hybrid cloud, CoinTong gained the ability to operate its database with high reliability through a physical server, while flexibly operating high-performance instances whenever necessary through the cloud. While using various add-on services as needed, the company was able to greatly reduce its initial investment and, at the same time, gained the ability to provide their services in a highly secure and stable manner 24/7, thanks to the global DDoS defense service. CoinTong, which solved its infrastructure concerns through KINX's services, was able to successfully introduce new services by focusing solely on the service launch.