Network Topology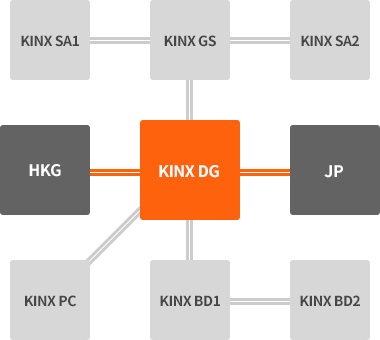 KINX, the only neutral IX cooperator in Korea, provides networks and services to increase the business value of its customers. Data center interconnections (DCI) were established using DWDM and Coherent solutions to operate each data center based on considerations of the accessibility and infrastructure of our IX members and customers and allow them to use the same network environment and services.

The data center segment is equipped with redundant optical cables and is configured with a peer-to-peer network topology for the scalability, stability, and convenience of IX peering. In addition, for reliable global traffic management, network PoPs were established in Hong Kong and Japan to connect with local IXs, ISPs, and CSPs.
Two units of Arista 7512R are used as the backbone switch, while LAG is applied to all the connections to increase the line reliability. All IX members can communicate with one another and, if necessary, can do so through a route server. The equipment in each data center has been made redundant, and a 40-channel DWDM multiplexer is used as the basic infrastructure. IX members and customers can use IX peering based on wiring in the Meet-Me-Room. More than 60 CPs and ISPs in Korea and abroad that are IX members of KINX are engaging in mutual exchange of traffic on a settlement-free basis.

KINX composes the network topology according to the services that will be provided at each PoP as well as network stability and the ever-changing network environment. The equipment is constantly replaced with the latest ones to allow IX members and customers to use the network in an optimal environment.

If you need more information about the network, please contact us.
KINX, specializing a network infrastructure, will be with you every step of the way.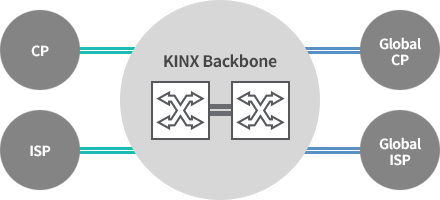 * Check out the IX members of KINX.
KINX's IX members