Power Security System for Blocking External Access
Firewall

The AXGATE Firewall is a powerful security system that blocks external access by shutting down all the ports except for the ones that must remain open to provide the necessary services. This prevents network security incidents, blocks external threats or illegal traffic, and allows only normal traffic. Engineers specializing in network security provide 24/7 monitoring and control and protect your services by actively responding to network problems and various adverse situations.
Price

(VAT not included)
Product
Configuration
HA
Monthly Fee
Standard

Firewall + Monitoring service

Single
KRW 250,000
Redundancy
KRW 400,000
Enterprise

Firewall + IPS + VPN + Monitoring service

Single
KRW 300,000
Redundancy
KRW 450,000
* The monitoring service is provided by one of our partners, GABIA.
How to Use

1. Sign up for the IXcloud firewall service.
2. KINX's Operations Team will install a firewall in your project.
3. The security and monitoring service provider will contact you to configure the detailed security settings.
4. After the security settings are configured, you will obtain the designated security and monitoring services.
Configuration Diagram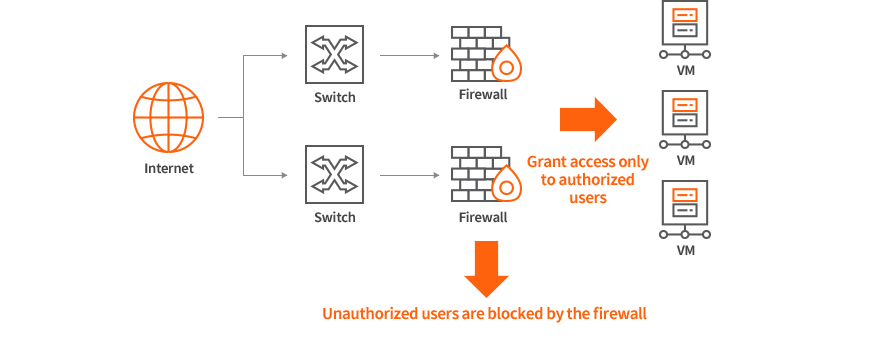 Firewall

· Application of a policy specific to each security zone and log and statistics management
· Implementation of a user-controlled firewall system based on role-based access control policy
· Support policy inspections using virtual packet simulation
· Function for searching for unused security policies and objects
· Provision of statistical information (traffic, session, etc.) on each zone and user

IPS

· Provision of more than 5,000 signature-based rules
· Detection and blocking of abnormal actions based on signature, protocol, and traffic
· Blocking of snort-based worms, viruses, backdoors, spyware and malware
· Provision of real-time pattern and policy updates
· User defined rule and snort rule format support

VPN

· Standard IPsec protocol and IKE v1 and v2 support
· Bandwidth-based load balancing
· Line bonding in case of using multiple lines
· Monitoring of traffic loss occurring during transmission and retransmission after receiving the packets in question
· SSL VPN support (OS: Windows, Android, iOS, Linux supported)
Monitoring Service

Even if you have excellent equipment or solutions, you won't be able to prevent an unforeseen attack without an engineer with professional expertise and skills in this area. KINX can guarantee seamless service 24/7 without any interruptions, with skilled engineers who can actively respond to network issues and various adverse situations.
Firewall monitoring services

Detection of external threats using next-generation firewall UTM (IPS, AV)
Blocking of harmful IP addresses and excess traffic based on IP addresses and ports
External access control in reflection of the security policy and other requests
Latest updates and patches for the firewall

IPS monitoring services

Prevention of intrusion by inspecting all protocols with the intrusion detection function
Automatic defense against signature, network, DDoS attacks
Automatic patch and user pattern updates for new vulnerability patterns

Event detection and failure response

Real-time detection of harmful events and traffic and detailed intrusion response analysis
Notification of a security event by phone or text message
Real-time inspection of the resource status of the security solution and the server subject to protection and prompt response in case of failure
Detection based on real-time management of harmful IP addresses and ESM by to related agencies such as KISA and NIS

Reports/Updates

Monthly report: Provided once a month (default target: IPS control)
Non-regular report: Providing an analysis report of intrusion threat events
Ongoing patch updates for security issues concerning the security solution
Collection and response to the information on security vulnerabilities of relevant agencies such as KISA and NIS
Periodic review of vulnerable policies and regular or non-regular security policy improvements
Recommended to

Companies that need to build a powerful security system in line with the latest security technology and trends

Companies that need to defend against intrusion through public Internet sessions used by internal/external users
Companies that do not have any in-house employees to manage their servers
For inquiries regarding the
Firewall