Stable Global Traffic Exchange
Remote Peering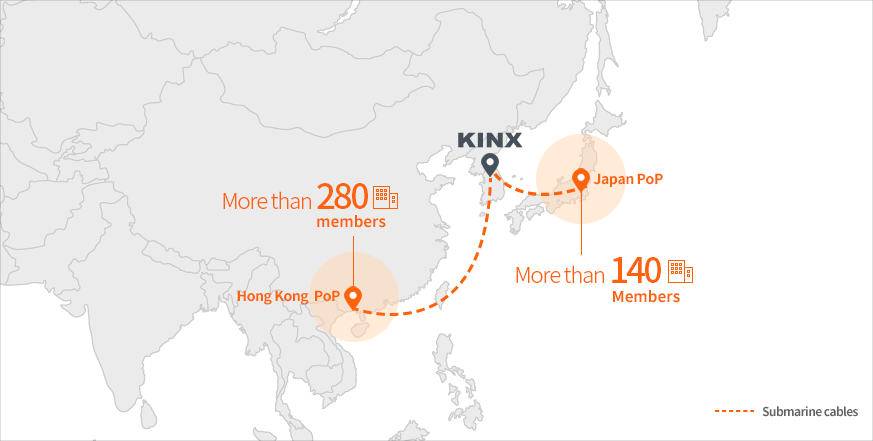 KINX, a global infrastructure service provider, has set up PoPs in Hong Kong and Japan for remote peering, which is a type of IX.
- Fast and reliable global Internet service quality based on submarine cables
- More than 270 peering members interconnected with the PoP in Hong Kong and 140 peering members interconnected with the PoP in Japan
· Remote peering members from Hong Kong PoP :
HKIX

Advantages
Interconnection with
Major Business Operators
Remote peering is possible through the international circuits of KINX and the IDC used by major business operators worldwide.

Qualitative Improvement of
Internet Service
Direct connection between ISPs through local peering leads to more optimized Internet routes and service quality.

Reduction of Transit Cost
Interconnecting with KINX's interconnection center helps reduce the traffic cost, as it is possible to exchange traffic with all the companies interconnected with KINX IX through a single line.

Convenient Autonomous
Interconnection Policy
When you subscribe to the local peering service, you will become a peering member of KINX, which will automatically enable you to interconnect with various other peering members via the
routing server operated by KINX.

Infrastructural Competitiveness
By using KINX's interconnection service, it is possible to improve the network performance, through which more reliable services can be provided compared to non-connected ISPs.

Configuration
In the case of domestic customers (i.e. those whose equipment is located in KINX's domestic PoP), they can be interconnected with the desired global operators through remote peering, while foreign customers (i.e. those whose equipment is located in KINX's overseas PoPs) can be interconnected with the desired operators in Korea. Because direct connection is established between ISPs, it is possible to use an optimized Internet route without needing to install a direct line. In addition, the redundancy of international lines and those within the PoPs ensures service reliability.

From global peering members in Hong Kong and Japan to the top three telecommunications service providers in Korea!
Check out the list of our peering members and experience efficient remote peering.
KINX will help you engage in smooth communication exchanges through remote peering.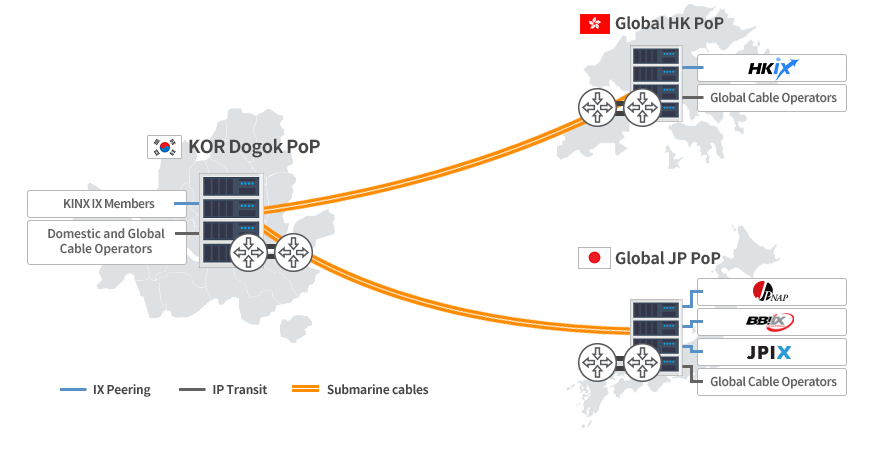 Global PoP Members
HK
CDNetworks, Google, PCCW, Telcom Malaysia, Telin Singapore, Tencent, THAI Gateway, True Internet, etc.
JP
Apple, Facebook, Google, Netflix, NTT, SoftBank, etc.
Products
Service
Description
IX-Port
(L2 IX)
Leasing switch ports to interconnecting companies
100Mbps / 1Gbps / 10Gbps
Dedicated circuits
Dedicated circuits connecting overseas operators and KINX
* Inquiries about the price
* Changes may be made according to the contract conditions, and the details are subject to negotiation.
For inquiries regarding the
Remote Peering