A quick and Easy Process to Start Kubernetes

With IXcloud®, Kubernetes becomes less daunting.
Is the high degree of difficulty stopping you from adopting Kubernetes? With IXcloud Kubernetes becomes easier.
From installing clusters to managing* Kubernetes, IXcloud's Kubernetes Service(IKS) provides customers
with an automated system to assist with everything that is needed for the process.
Start your Kubernetes journey by subscribing to IXcloud today. * In the case of using a shared cluster
One-click Cluster Deployment
and Management
- With just one click, cluster configuration
and deployments can be completed

Easy
Application Deployment
- UI-based Helm application is provided
- A variety of APPs can be installed and set.

Cost
Efficient
- Management of Cluster is provided free of charge - The only charge is for infrastructure usage

Reduce
Operational Burden
- Provide pre-set shared cluster
- Service will only start once APP have been deployed

Compatible with
standard Kubernetes
- It is compatible with standard Kubernetes environments.
- Kubernetes standard APP, SW can also be used.

A to Z
Kubernetes Guide
- Provides tutorials and explanations from Kubernetes concepts to tutorials
- Provides detailed guides on YAML File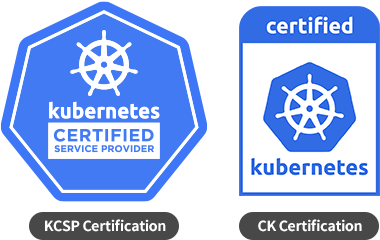 IXcloud®, A CNCF certified Kubernetes Service
A Kubernetes Certified Service Provider(KCSP) is a certification given to companies with the competence and experience to provide professional Kubernetes services. In order to obtain the KCSP certification, companies must be a member of the Cloud Native Computing Foundation(CNCF), have at least three engineers in the company that have passed and hold the Certified Kubernetes Administrator(CKA) qualification. IXcloud Kubernetes Service provides enterprise-class services based on the CNCF certified and recognized Kubernetes expertise.
The Key Feature to Kubernetes is Durability and Resilience
One of the biggest difference between Kubernetes and cloud service is the service environment's durability and resilience.

In a typical cloud environment, if one instance fails, then the entire service is affected. On the other hand, in a Kubernetes environment,
the pods are not dependent on the nodes (Instance), so the service is not affected even if a specific node fails. New pods are automatically
deployed to other nodes within the system for continuity of service operation.

In addition, depending on the set configuration, pods are automatically added or deleted, so even in situations of a sudden failure,
the service can recover. Compared to auto scaling with instance, the service for Kubernetes scales faster.

IKS services helps make Kubernetes Easier
Start a basic cluster with one click

Customers can avoid going through a cumbersome process to create clusters with IXcloud console. Customers can create clusters straight away with the suggested default values in the console. Afterwards, customers can manage their Kubernetes environment through the monitoring dashboard.

Create a Shared Cluster without Fretting over Infrastructure *Coming Soon

IKS Shared Cluster provides customers with the easiest Kubernetes service. From infrastructure build to setting, customers can leave the complicated build environment to KINX. Customers can get started with Kubernetes, as soon as they have a ready-made application and service.

Helm Application for Easy Deployment *Coming Soon

KINX provides Helm, a Kubernetes chart management service as a web UI. Customers only need to enter the requested values in Kubernetes to install the application, and Helm will do the rest. Installation to deployment can be completed with one click.

A Fast and Convenient Container Registry *Coming Soon

Container registries help customers store and manage image separately. The container registry, which is an essential component of the CI/CD pipeline does not have to be built by the customer.
Use Cases
Services with a Demanding Deployment Deadline (CI/CID)

Service Managed by Multiple Teams (Helm)

A Fast Test Environment and Data Storage (PV)
Services with a Demanding Deployment Deadline (CI/CID)

For services with a demanding deployment deadline, a rapid build of the service code and deployment is essential. Thus, the need for a CI/CD* environment that automates the code integration and distribution process is growing.

Try configuring your service with a CI/CD installed with an IKS cluster and container registry. Reduce release time to market by automating the build, test and deployment of the service. Customers can also create, deploy or delete new Kubernetes pods in a matter of seconds to speed your service.

* Continuous Integration, Continuous Delivery
Service Managed by Multiple Teams (Helm)

In the case of multiple teams managing and operating the service, the customer will need to operate and manage multiple clusters. The customer will also be required to run the application on new clusters, rather than the initially built cluster.

Building an application using the existing YAML file in the environment can be cumbersome. This is because the customer must edit one by one the manifest of the new cluster environment.

However, the management of the manifest becomes easier with Helm. Customers can quickly build an application by adding and modifying the necessary values of the template and variables for a faster build application.
Data Storage and a Fast Test Environment (PV)

The pods that perform Kubernetes tasks are not dependent on a specific node, and are created, deleted and move around multiple nodes. If the pod is deleted, then the data will not be saved when it is restarted.

By using persistence (PV) volumes, the data can be saved permanently. This is because the essential data, along with DB or CI/CD data are saved on PV. Thus, the data is maintained even when the Pod restarts.

Another positive, if PV is used, the testing environment can be processed faster. By saving PV onto the temporary storage build, repetitive workloads can be reduced and rapid deployment can be enabled.
Talk with a Kubernetes expert.
Are you unsure on how to approach and configure a Kubernetes service? If so, talk with one of our IXcloud engineers with a Certified Kubernetes Administrator certification. IXcloud will help your service with your Kubernetes transformation.
Sales / Technical Consultation