Introduction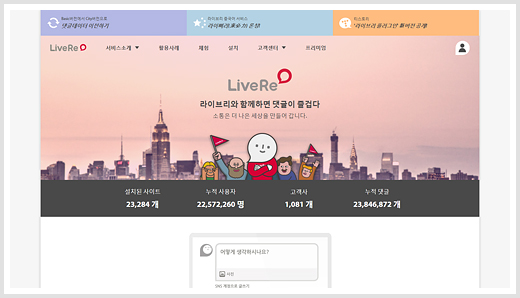 A leading online providing platforms for SNS comments.
In 2009, Cizion developed the first social comment platform in Asia so-called LiveRe. LiveRe provides services that website users are required to log-in to leave a comment. That way Cizion can have a log containing the user's basic information under privacy protection law.
LiveRe is the major service provided by Cizion that is used for detecting cyber terror, insulting online comments and etc. LiveRe is used by about 1,000 organizations including broadcasts, enterprises and the public sectors. February in 2016, Cizion expanded its business to China and aims to be a leader in a global platform industry.
Background

Efficient network infrastructure configuration and personnel costs reduction.
Cizion, which was a start-up, bore increasing operation and personnel costs as the number of staff went up.
Because of this reason, Cizion decided to use cloud; yet, there was no professional engineer to develop its own cloud at that moment.
What did KINX do?

Suggested IXcloud service and provided basic lessons about cloud
KINX suggested Ixcloud service which does not require to have a huge investment cost so that Cizion spent less than the expected costs. Even without professional cloud engineers, Cizion could use cloud service well due to KINX engineers' technical supports. In addition, KINX staff visitied Cizion and provided lessons about how to effectively use IXcloud and others. It was the first time that Cizion introduced cloud in its network and KINX service, engineers' supports and other value-added services made Cizion easier to use the service.
More about 'Network – Co-location'

Effect

Significant cost reduction effect.
Cizion offers many types of service including LiveRe service and is able to offer all other services based on cloud service as well. Using KINX cloud service led to a lot of cost reduction since Cizion didn't have to configure any other new infrastructure.