Scalable, Stable and Reliable IXcloud Storage
Volume is

Permanent storage that could be used together with instance.
Decide the type, volume, and IOPS of volume and customize it to meet your demand.
Why use Volume

It is hard to scale your storage with physical servers. Using cloud allows you to be flexible and scale the moment you need it.
You can prevent IO bottleneck effect and guarantee high availability of applications.
Items
IXcloud Volume
Regular Storage
Storage costs
Usage-based, pay-as-you-go
Need to purchase solution and hardware
Need software update and additional services
Need engineers to manage infrastructure
Server management costs
No additional investment for infrastructure
No concern for maintenance
Need upfront costs for purchasing hardware
Need maintenance costs
Service flexibility
Flexible and easy to scale
Inflexible and hard to scale
Need time and money to meet the growing
demand
Price

Items
Volume
Monthly Fees (KRW, VAT Exclusive)
Note
Standard Volume
50GB
2,500
Supreme Volume
100GB
10,000
Additional 10% when using Supreme Burst Insurance
1 IOPS
32
* The rates for Supreme Volume are based on the volume and specifications.
The minimum volume is 100GB and the maximum volume is 1TB. 3000~12000 IOPS is available according to volume.
Volume Type
Standard Volume

Standard Volume is SATA volume compatible with storage of frequently accessed data, web server, and application server.

Supreme Volume

Supreme Volume is SSD volume most ideal for enterprise-level applications. IXcloud's Supreme Volume offers high availability and performance while minimizing the impact of hardware failures by protecting data.
* The minimum volume is 100GB and the maximum volume is 1TB. 3000~12000 IOPS is available according to volume.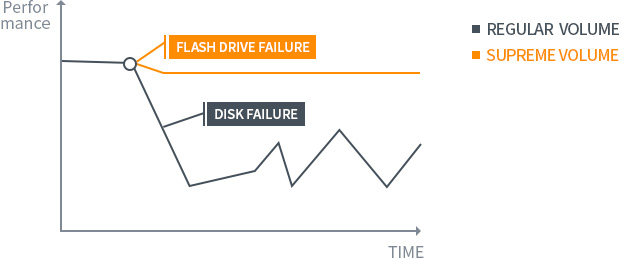 Performance Comparison
Item
Standard
Supreme
4k Random Write
428
Configure IOPS based on
volume
4k Random Read
386
64k Random Write
339
64k Random Read
311
128k Random Write
295
128k Random Read
282
*The result is based on 64 thread.
Guideline to Creating Volume

1. Select the size and volume type. (Supreme, Standard)
2. Supreme Volume could be selected based on the size of IOPS and Supreme Burst Insurance may also be selected.
3. Provisioned volume could be used with instance.
Guideline to Backing up Volume

Utilizing snapshot makes backing up volume an easy process.
Save snapshot and restore the volume whenever you would like.