Introduction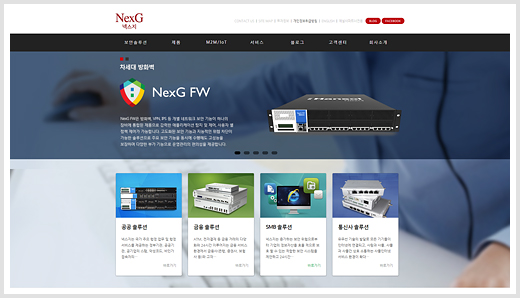 VPN, UTM solution business
NexG is a professional integrated security company and NexG has gained prominence in VPN & UTM solution that made NexG maintain the #1 market share in South Korea.
Recently, M2M & mobile security solution are the NexG's key services to be more competitive in an emerging market. In network security business, NexG have launched its next-generation fierwall, called NexG FW.
Background

Aimed to ensure availability of NexG's services specialized in online security
NexG's online security services include collective security services such as security solution, hardware products and so on. NexG's main customers are finance/banking institutions and the public sector, since its value is protecting its customers' prime information and enhancing reliability against any type of cyber threats.
What did KINX do?

Suggested local peering + Transits for Fault Tolerance configuration and cost savings
KINX suggested Hansol NexG, a professional security company to local peering + duplicate Transits for Fault Tolerance configuration and cost savings.
KINX is the only local peering service provider in Korea; about 40 members including major ISPs, SOs, CPs are peered at 895G backbone network at KINX IDCs. Allowing domestic ISPs, SOs and CPs to directly exchange Internet traffic without any charges, peering is much more cost-effective than using transits. 17% of the eyeballs in Korea (around 3 millions) uses the Internet through KINX.
Transits can be purchased by any ISPs and installed in either domestic or global places. Thus, it is doable to purchase more than 2 transits from multiple ISPs for optimized routing path.
More about 'Network – Local Peering'

Effect

Duplication of network can prevent unexpected errors
NexG configured its network by using KINX's Transits for fault tolerance configuration and by using KINX's local peering for cost savings. One of the strengths of using KINX service is that unexpected errors can be managed promptly and shortly announced to customers. Also, customers using duplicate transits can re-rout to other optimized paths and also other ways to duplicate network structures.