Economic and efficient KINX local peering
Local Peering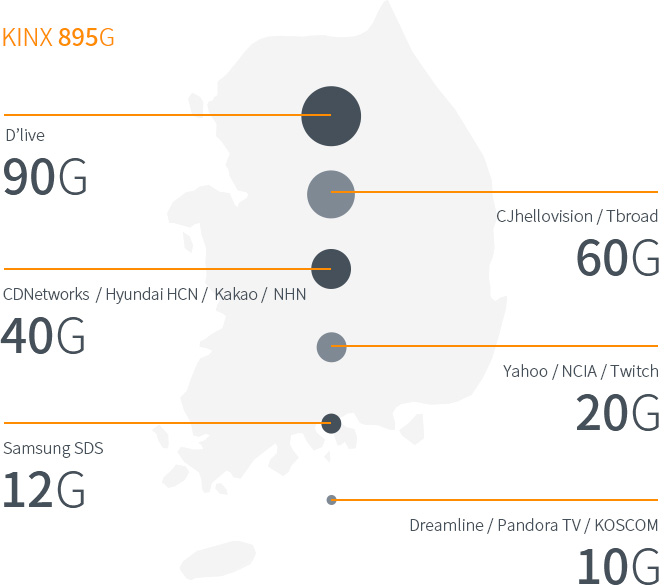 KINX's local peering is equipped with 895G backbone network consisted of major ISPs, SOs, CPs in Korea.
Settlement free peering with our 42 peering members listed above will significantly reduce on-going transit costs via our local peering.
We serve 17% of the Korean eyeballs (around 3 million) who can be your future customers.
Strengths of
KINX's Local Peering
Internet Services Quality Improvement
The direct interworking among ISPs via local peering minimizes latency, providing with customers optimized paths and high service quality.

Transit Cost Reduction
The establishment of a single circuit allows traffic connection with the company being linked to the KINX IX center, saving circuit cost.

Efficient Interconnection with IX members
Peering members can autonomously interconnect with other members as they wish.

Stability of Local Peering
KINX's local peering allows latency and congestion managed locally, meaning that the connection via peering is more manageable and stable for peering members.

Flexibility of Settlement Free Policy
IX is an easy way to enter and interconnect with existing peering members due to flexible and neutral IX policies with KINX.

KINX
Local Peering Structure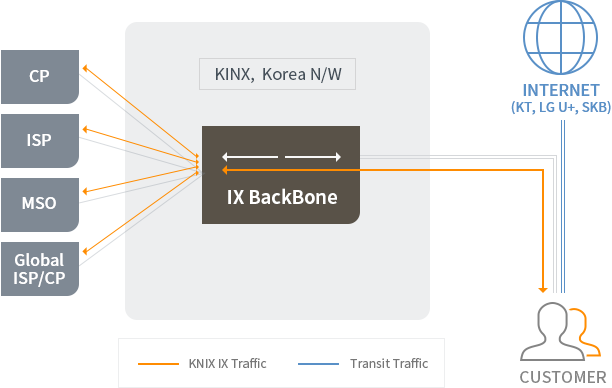 KINX
Local Peering Product
Service
Information
IX-PORT
(L2 IX)
Lease on Switch Ports for KINX customers
100Mbps / 1Gbps / 10Gbps
* For more information, please contact our sales team (Tel: +82-2-526-0900, Email: sales@kinx.net)
* Information above can be changed depending on business circumstances.
KINX
Cases of Local Peering
" D'Live has been enjoying KINX IX (peering)with a single circuit allowing
cost-efficient, fast and reliable connectivity to all peering members "

For inquiries
about
Local Peering