Introduction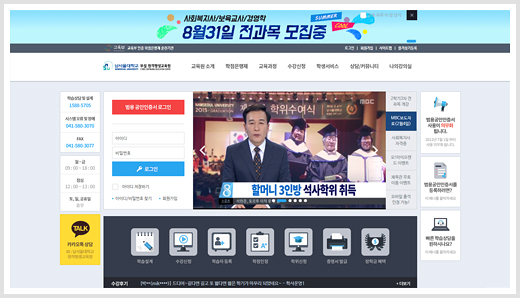 Providing mobile-friendly online lectures for students' convenience
Namseoul University operates career center for students from entrance to graduation until all graduates can find their dream jobs; even after graduation, the center continuously supports graduates. The university also put an emphasis on having moral principles not just for themselves but for the society. For an effective educational system, the university offers online lectures on desktops and mobiles – so called LMS (Learning Management System).
Background

Cyber lecture and remote access operation
Namseoul university aims to providing equal education chances to everyone by offering 'cyber class' and previously this class was operated at the university computer room. However, it became more inefficient to operate cyber class at the computer room due to the increasing number of online lecture contents. This made the university searching for an Internet infra service.
What did KINX do?

Suggested CDN video streaming and cloud storage
KINX suggested Cloud CDN Video Streaming service to Namseoul university that can solve technical issues due to old-fashioned computer room; plus cost reduction was an additional benefit of using KINX CDN service.
CDN video streaming is encoded to many different types of video clips as Flash Media, SWF, FLV and more. In addition, one of the strengths is that the CDN service is flexible to meet customers' needs.
Cloud storage service is optimized for streaming service; and this service can enhance reliability and performance.
More about 'CDN – Video Streaming'

Effect

Significant cost reduction and service improvement
There is no need to re-configure or exchange anything in the computer room with CDN KINX that reduced costs significantly. At the same time, the quality of video including speed improved as well.