Cloud storage for flexibility and cost efficiency
Who needs it?

Company struggling from their limited storage resources against massive contents volume

Company who wants to add cloud storages to their existing storage
In need of highly scalable storage at anytime

Company with limited human resources to manage their storage
Cloud Storage is

While using CDN service, customers can utilize KINX cloud storages with flexibility.
In particular, customers can effectively manage their contents even when the number of contents increases dramatically in a sudden.
Effects
Reduce the cost for management
"Pay as You Go". Customers can stay away from fees such as installation, investment for their physical infrastructure.

Flexible storage expansion and accessibility
Customers can access and use as much volume as they want from KINX Cloud storage service.

Business Continuity
Contents will be duplicated and stored in KINX' diversified physical servers, so customers do not need to worry about back-ups for their data.

Useful API & high compatibility
KINX provides variety of API that fits customers' systems for convenience.

Functions
Unlimited Storage


Customers can enjoy KINX highly scalable cloud storage. You can increase/decrease the volume as much as you need at anytime.

High compatibility for 3rd party file management program (AWS S3, FTP, Cyber duck)

AWS S3:


KINX provides API that is compatible with AWS S3. Applications developed in AWS can be used in KINX CDN storage.

Cyber duck:


Cyber duck is a free ware program that delivers customers convenience to up/download or delete their data.

FTP :


KINX CDN storage supports FTP program.

Massive Data Upload


Customers can use KINX CDN user portal to upload massive volume of data at ease.

Usage stats and analysis report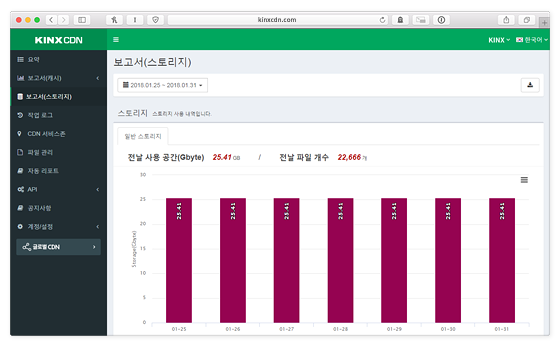 For inquiries
regarding
Cloud Storage