Introduction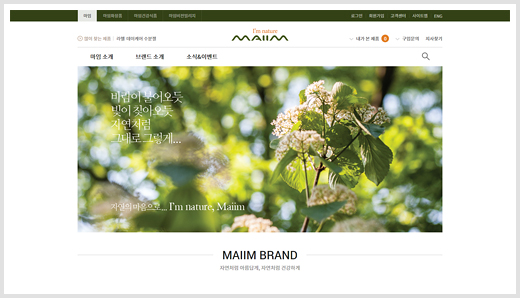 Producing cosmetic / beauty products with natural materials.
Maiim values nature/culture/people and delivers the best from nature for the beauty and health of people.
Maiim manages and operates Maiim Vision Village which is the communication center of Maiim and also a place for exhibition, performance and other outdoor activities.
Background

Had to provide video lectures at every branch on a everyday basis.
There are Maiim branches across country and each branch conducts internal training by playing video lectures. Maiim employees must attend the training session and thus providing video lectures. More than 1000 branches conduct internal education everyday and this led Maiim need huge infra for playing online video lectures.
What did KINX do?

Instance responses to network traffic spikes at the same time.
It was possible to anticipate how much network traffic needed for multi-users since huge network traffic was occurred at a certain time. Every branch calculated estimated traffic amount so that they could offer online lectures for multiple users at the same time. In addition, KINX engineers monitored and managed for 24/7 to solve technical issues instantly. It was also important to protect online contents securely; in response to this needs, KINX offered Internet security service so that Maiim can offer and operate its online lectures much easier.
More about 'CDN – Video streaming'
Effect

Despite of the increasing number of users, availability to offer online lectures without disconnection.
Maiim's online lecture service for its employees required a large enough network bandwidth to offer video lectures everyday and this needs was successfully met by KINX CDN service. As KINX CDN service solved Maiim's technical issues, Maiim became able to focus on developing its online lecture contents. On top of this, Maiim reduced significant operation and management costs.