Introduction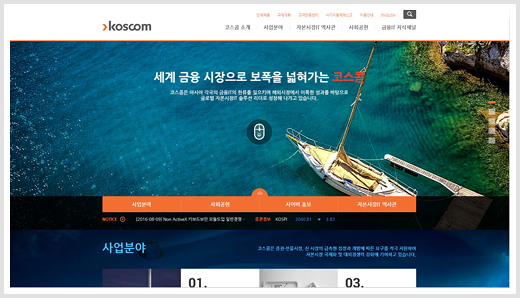 Subsidiary of Korea Stock Exchange, specialized in financial information infrastructure from banking certificate to pin-tech
Koscom is a Korean financial It solutions company launched by the Korean government and offers online stock trading systems that enable users to access to financial database and place trades by Home Trading System or using a customized terminal for professional traders in securities as well as other electronic financial services. The most well-known Koscom services is issuing digital certificates providing a safe and secure environment for e-commerce.
Recently, Koscom developed a new integrated system based on open API platform to integrate financial system to accurately operate and analyze capital flow. Koscom aims to expand its business to global markets with its new integrated system.
Background

Network duplication : a back-up plan for unexpected network errors
The top priority for financial institutions is to operate its servers 24/7 with no excuses and thus the Fault Tolerance system configuration was essential. Koscome was looking for a way to configure the system for ensuring its secure and reliable operation.
What did KINX do?

Suggested duplication with local peering over KINX's backbone network
KINX suggested duplication of existing networks through IX local peering. This duplication protects Koscome from an unexpected network disconnection and makes it operate at a reasonable price since there are less needs for transits.
KINX is the only local peering service provider in Korea; 42 members including major ISPs, SOs, CPs are peered at 562G backbone network at KINX IDCs. Allowing domestic ISPs, SOs and CPs to directly exchange Internet traffic without any charges, peering is much more cost-effective than using transits. 17% of the eyeballs in Korea (around 3 millions) uses the Internet through KINX.
Effect

Fault Tolerance configuration at a reasonable price
Koscom duplicated its network at a reasonable price with KINX IX(local peering) service and this led Koscome to provide its services without errors even when an ISP's network is down.