Introduction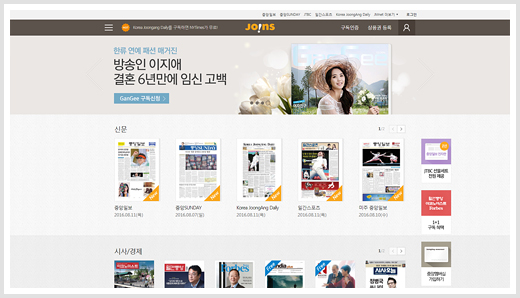 The most active online media – Joins' – runs a portal site.
'Joins' operated by Joongang media is a collaboration of all kinds of popular online channels. Mainly, Joongnag Illbo, SUNDAY, Joongang Mongthly, CeCi, Forbes Korea and etc. can be found in Joins.
Joongang media network distributes the latest global and domestic issues real-time. In addition, DB service including celebrities is run by Joins. Joongang showcased the first blog service including various contents and online communities in Korea. This proves that Joongang is one of the most professional in terms of online media techniques.
Background

Real-time is the key feature and DDoS protection and web security are one of the top priorities for Joins.
Joins became using CDN services for improving its online web service such as downloading/uploading image files. One of the features of Joins is updating daily news and providing stable web services regardless of the number of viewers. Moreover viewers mostly visit the website at certain times while they are on the way at work or home. Thus, Joins needs enough bandwidth size for preventing packet loss/disconnection. On top of the quality, security is also critical – for example, DDoS attack protection.
What did KINX do?

Offered 'Site Defender' service having web security feature
KINX suggested web/mobile caching service that saves image files at server in advance so that image files can be loaded on the website faster from an edge server in stead of the origin server. In addition, websites are often vulnerable and become an easy target for a DDoS attack. Hence KINX suggested its web security service so-called 'Site Defender'. By using Site Defender provided by KINX, Joins servers are located at K-Clean zone and Joins are getting 24/7 web security management by KINX.
More about 'CDN – Web/Mobile Transmission'

Effect

Providing reliable services by preventing DDoS attacks with Site Defender
Although Joins have countless visitors every day, it became manageable to provide reliable web services without lags with KINX CDN services. The combination of CDN and Site Defender created a great synergy by guaranteeing not only the quality but also secure web services against DDoS attacks.