KINX enhanced DDoS protection service
Who needs it?

In need of secured website while providing massive contents

In need of anti-DDoS service
In need of security service which blocks hacking, and malicious code

Company having difficulties with setting up their own security system
Site Defender is
Site defender is a combined product of CDN and DDoS mitigation services.
While distributing your contents via CDN, you are protected from DDoS attack by KINX DDoS mitigation service.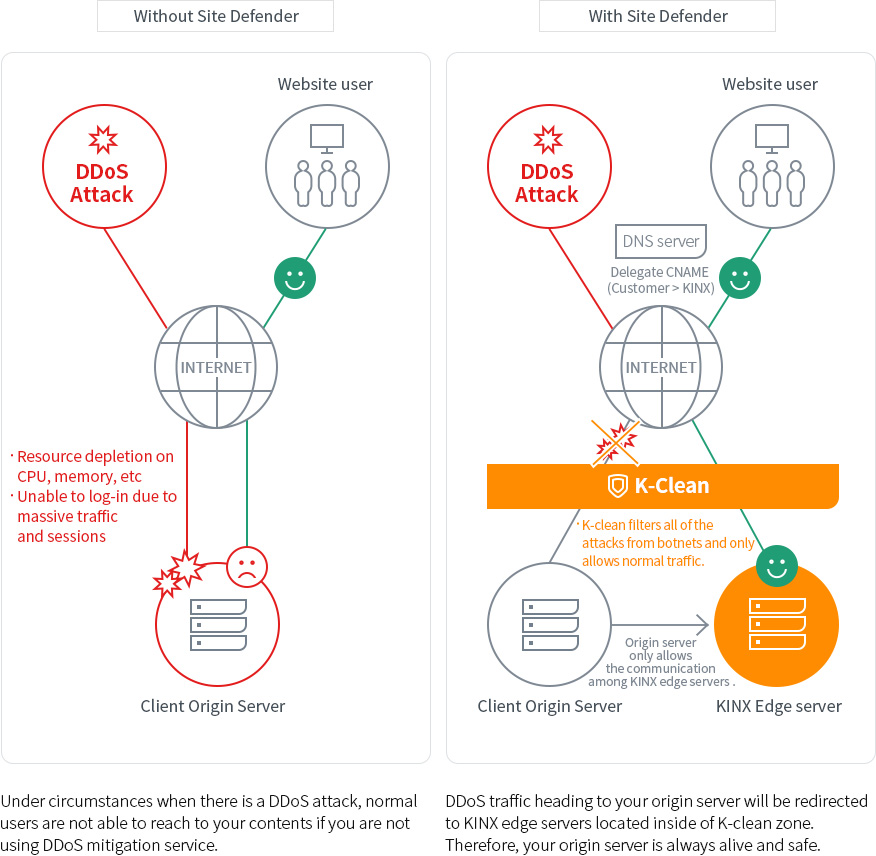 Effects
Guaranteed service availability
KINX professional engineer monitors your service 24/7 and supports promptly in any situations.

Affordable flat-rate fee
No additional fees on number of DDoS attacks and the sizes.

Functions
DDoS protection on whole web services including dynamic contents
Monitors and blocks any abnormal traffics and TCP attack
Registers/blocks IP address causing DDoS attack
24/7 monitoring and tech support
Provides logs and reports
How to use
Site Defender
Configure information such as URL, IP, Protocol, and port on L7 in K-Clean Zone.
Customer receives information of how to test the service.
After a contract, KINX notifies IP address of KINX CDN server to customer.
Customer can set their IP address towards KINX edge servers not only when customer is under DDoS attack, but also at anytime they want.
Customers can change their web IP address at DNS server to KINX edge server IP address at anytime they want.
For inquiries
regarding
Site Defender