Introduction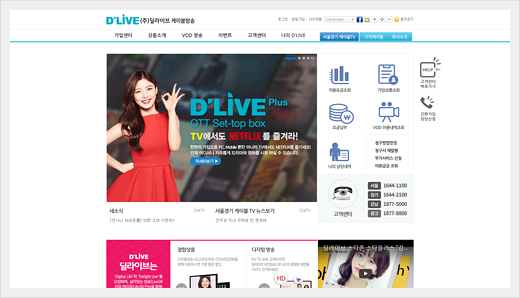 One of the most powerful broadcasting business in the capital area and the only Korean business partner with Netflix.
D'LIVE, founded in 2000 (originally C&M), provides Cable TV broadcast, high speed Internet, telecommunication etc. and one of the biggest broadcasting businesses in metropolitan areas in Korea. D'LIVE also runs 15 cable broadcasting systems in Korea. Recently D'LIVE has reached an agreement with Netflix, which is a global OTT enterprise, to provide services.
Background

Gradually increasing traffic & expensive transit price.
The amount of Data, D'LIVE needed for its customers, went up quickly, as the number of D'LIVE users gradually increased. Data plans for broadcasting business are different from phone plans since broadcasting businesses charge based on the number of TV and Internet cable rather than the amount of used data. D'LIVE hence needed a more economic way to reduce their transit costs.
What did KINX do?

provided L2-based local peering & L3-based transit services.
KINX suggested both L2-based local peering service and L3-based transit service to effectively reduce costs for data transmission.
KINX – the only local peering provider in Korea – exchanges the Internet traffic with major ISPs, SOs, and CPs through our 562G networks. 42 peering members exchange traffics based on settlement-free policy that enhances quality of the Internet eXchange (IX) and reduces Internet transit costs at the same time. 17% of the eyeballs in Korea (around 3 millions) uses the Internet through KINX.
Configuring transits allows to connect both domestic and international ISPs without geographical barriers also KINX provides many transit options from numerous ISPs. In addition, it is doable to purchase transits from more than 2 ISPs. With our flexible services, we guarantee optimized routing paths to meet your needs.
More about 'Network – Local peering'

Effect

Became a more economic & reliable Internet provider.
With local peering and transit services provided by KINX, D'LIVE saved significant transit costs and enhanced its network quality while interconnecting with other KINX peering members. Besides cost saving and reliability, D'LIVE became able to optimize routing paths due to existing KINX peering members.