Introduction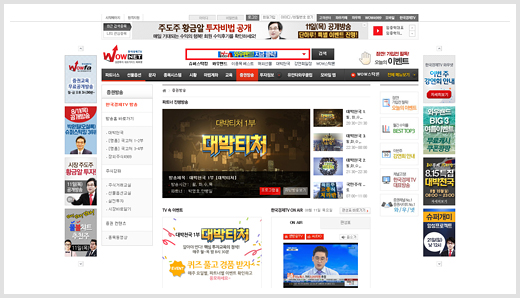 Economy broadcasting system for stock market investors.
한국경제TV is a multi-media broadcasting company providing cable TV broadcasting, Internet service business, educational business etc.
한국경제TV has two main goals . Firstly, 한국경제TV provides the latest stock market news for investors and the other is the information provided by 한국경제TV is not limited to financial information but also other news including entertainment, health and politics.
한국경제TV daily airs the current state of stock markets and how to invest on stock markets.
Background

Optimized streaming service provided by 한국경제TV regardless of types of digital devices.
As the number of mobile users steadily increased, it became critical to provide optimized display for mobile users who use different OS platforms. 한국경제TV offers streaming VOD services for not only desktop but also mobile users by providing online streaming VOD services on different mobile platforms such as IOS and Android .
However, 한국경제TV could not deliver streaming VOD to all users using different platforms; hence 한국경제TV had to come up with a better solution to provide better services regardless of users' platform type.
What did KINX do?

CDN Video Streaming & Monitoring Value-Added Services.
KINX suggested CDN video streaming services to solve the technical issue that Korea Economy TV experienced.
For better quality, all video clips are encoded to suit any type of platform including iOS, Android, and Windows mobile OS by encoding all video clips and providing stable bandwidth. Hence, this allowed Korea Economy TV provide video streaming to both desktop and mobile users.
Effect

General quality improvement and reliable VOD streaming services with fast error responses.
KINX CDN video streaming services aimed improving 한국경제TV's streaming service quality. Since it is critical to provide stable VOD streaming services while stock markets are open, the stability of its VOD service was the top priority. KINX, therefore, provided quick response regarding technical errors during the stock market time that improved WOW TV's streaming service quality.