Introduction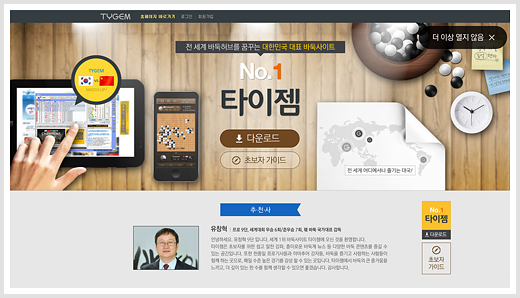 Tongyang providing IT contents and a cross platform.
Dongyang Online is a subsidiary of Tongyang group and develops IT contents. These are the major items from Tongyang: an online game website, Tygem, game portal called Game Hama and a board game website called Tygem game.
Especially, Tygem is the number one Baduk(so called Go) website and Tongyang is expanding its market to China, Japan and Taiwan with Tygem. Thousands of people are connected at the same time to watch real-time Baduk(Go) live broadcast.
Background

Users in China dissatisfied with unstable Internet network.
Tongyang Online used transits to operate an online game website 'Tygem' , however quality of the network was not getting better. For baduck games, it is quite often required to play in a long period of time; this required a large amount of bandwidth. Server disconnection and network latency were occurred often and Tongyang needed technical solutions.
What did KINX do?

Suggested enterprise-only network CN2.
Eyeballs in China quite often experience server disconnection, laps and other technical issues while using the Internet. To improve this issue, China Telecom built the next-generation, enterprise-only network "CN2". The enterprise-only network enables CDC much faster and more reliable. 'Tygem' chose CDC to improve its service quality and then was able to proceed its schedule much faster. As a result, Tongyang was able to improve its quality and satisfy its users.
More about 'Network – China Direct Connect'

Effect

Server disconnection and latency are not Tygem's issues anymore.
Tygem with KINX China Direct Connect improved its network quality and this enabled Tygem's network more reliable. Some areas in China has experienced improved Internet quality and speed and Tongyang could provide its services in China with a more reliable and faster Internet network.