Introduction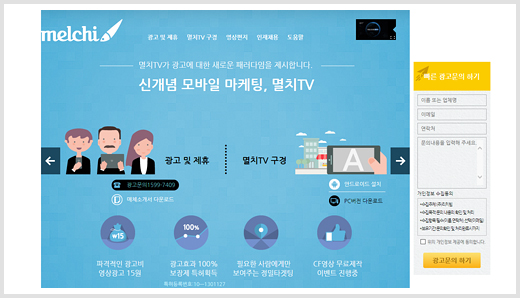 Providing customized mobile marketing platform beyond food industry.
Richbeam, a franchise brand in food service industry, has been operating a well-known Korean brand, 'Pizza World an Chicken Princess', more than 10 years.
Currently, Richbeam expanded its business ranges not only restaurant industry franchise but also mobile marketing to provide video advertisement to targeted prospect customers.
Background

Needs in searching a business partner to expand business from dining to IT.
Richbeam was aiming to expand its business portfolio from the food industry to the IT industry. Yet, Richbeam found out that expanding business to the IT industry can be very risky without knowing what to prepare. Although Richbeam wanted to operate a broadcasting system and an online shopping mall, there was not a solid business strategy including know-hows to expand it in the IT industry. Hence, Richbeam was looking for a business partner and KINX was the right match.
What did KINX do?

Suggested required server hosting and web/mobile transmission services.
KINX suggested server hosting, network security and web/mobile transmission services to Richbeam. KINX, as the only L2-based IX provider, optimizes IDCs operated by professional engineers and major ISPs are directly interconnected to KINX backbone network. KINX server hosting is, therefore, an optimized service for those who need to operate an IDC with the very limited number of engineers.
The second one that KINX suggested was a web/mobile caching service that saves image files at server in advance so that image files can be loaded on the website faster from an edge server in stead of the origin server. This caching services is to prevent network congestion caused when many users are on the same website at the same time. Caching, therefore, is required to certain types of websites including portal & search website, game and online shopping malls containing lots of images and attracting many users at a very short period of time.
More about 'Network – Server Hosting'

Effect

Stable operation and cost reduction for operating a new service
Costs of both server hosting and operation service for Richbeam are significantly reduced due to value-added services provided by KINX, including server hosting management service. CDN web/mobile service by KINX helped Richbeam provide sending video ads and image files that require a quite large bandwidth.