Introduction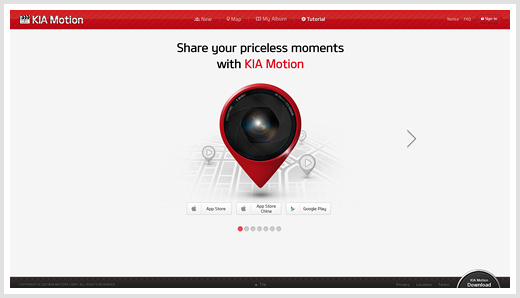 Global automobile brand continuously providing services to fit customers' needs.
KIA Motors is one of the biggest mobile companies in Korea. KIA's marketing strategy is committing its best efforts to make further advancement and providing convenience to its customers by using smart phone apps, KIA Red members, Qfriends and more.
KIA motion app provides current location / map services and the app is functioning based on KINX cloud and co-location. This app is awarded the first prize for 2015 Mobile Award Korea in automobile industry, since the functions of app perfectly meets drivers' needs.
Background

Needed hybrid solution to interlock with existing high-spec servers.
KIA Motors has developed its own app, called KIA Motion, which is a free movie making application. Users can make their own video clips by using the app and share them through SNS. To do that, this app service is required to have a set of a high-spec server and a DB server for encoding high-quality video files.
What did KINX do?

Provided hybrid solution combined cloud and co-location.
KINX suggested two services: 1) located existing high-spec servers at KINX IDC and 2) virtualized servers and DB servers as hybrid cloud. KINX Cloud, so-called Ixcloud, is OpenStack-based and one of its strengths is that professional engineers operate and manage cloud services to meet specific customers' needs.
Also, KINX colocation service is an optimized network environment and managed by professional engineers for 24/7 that reduces operation costs for customers due to management services provided by KINX.
Effect

Existing server and new infra configuration enabled to provide high quality service.
Needs in a hybrid server keeps growing fast since hybrid can be more flexible to meet fast changing market environment. KIA has benefited by using KINX services through hybrid solution (cloud + colocation) and reduced significant costs as well.