Introduction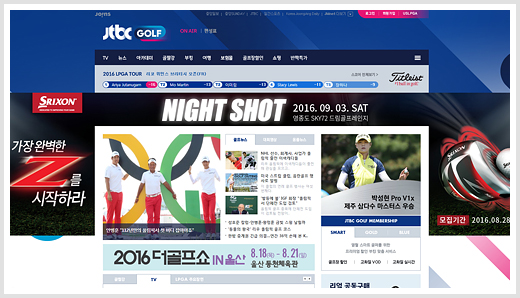 The best Korean golf broadcasting media stretching to 150 countries
JTBC Golf broadcasts international golf tours including golf lessons, documentary, sports news and almost everything about golf. JTBC has ownership of broadcasting of 6 Men's and Women's golf contests. Furthermore, golf lessons from entry to amateur level are also provided by JTBC Golf.
JTBC Golf is the first broadcaster providing HD video programs; for providing high-quality golf broadcasting, JTBC introduced Full HD broadcasting system. In addition, JTBC Golf is continuously working on providing contents through web & smartphone application so that JTBC Golf viewers can watch its programs anywhere and anytime.
Background

Needed huge CDN infra for stable real-time golf tournament games without disconnection.
As professional Korean golf players achieved great results in world golf tours, the number of golf fans became growing and growing. In response of this golf fever in Korea, JTBC Golf began broadcasting real-time every LPGA game.
As JTBC Golf was getting more viewers, providing stable broadcasting became more critical; its needs led JTBC Golf implement KINX CDN streaming service which is capable to handle maximum 400G traffic.
What did KINX do?

Automatic monitoring makes doable to handle unexpected traffic change due to fast changing golf game schedule
Reliable network infra is required to broadcast real-time golf tournament without network disconnection. For instant response to unexpected traffic increase and other network issues, KINX network control center is operated for 24/7.
Since the first mile (from customer's origin server) and the last mile (from edge to end users) are critical to minimize latency, our engineers at network center monitors any issues during the two accesses so that JTBC Golf viewers can enjoy stable and fast streaming golf tournament on their various mobile devices.
KINX checks daily traffic change and send email report to JTBC Golf for preventing packet loss/bottle neck effect since Golf tournament schedule quite often varies resulting in fluctuate traffic change rate everyday. JTBC Golf doesn't have to check its network every moment due to KINX engineers who are ready for 24/7.
Effect

Customers don't need to check their network current state everyday since daily network report is sent by KINX engineers.
Monitoring network traffic at KINX control center for 24/7 and instant response enabled JTBC Golf to broadcast golf tournament without latency caused by concentrated traffic amount at a short period.