Introduction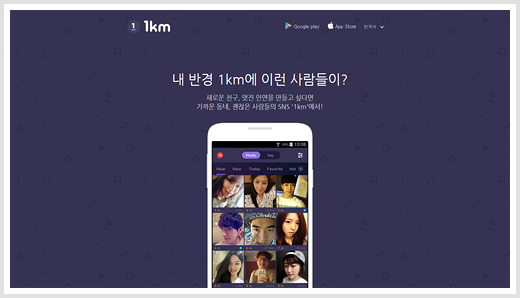 A subsidiary company of Yellow Mobile.
In 2014, Yellow Mobile, a giant venture, took over e-motion and became the most well-known digital web agency. WebAward is one of the most frequently awarded companies not only domestically but also globally. In 2010, e-motion became KINX IDC members to operate a global dating app, called 1km.
Background

Needed to find an IDC for globally operating an app service.
A dating app called '1km' developed by e-motion can find a contact of people who are single and located within 1km from the user. As the current location is updated, profile photo and group information of those who are 1km users and live closer are automatically popped up.
In 2014, e-motion app began offering services in 10 languages including English, Chinese, Spanish and Taiwanese to attract international users and target global markets. In order to operate an app in a global market, flexible options of domestic and global circuits are critical and eventually reduces management costs. However, major telecommunicators who operate IDCs do not offer flexible options for circuits and this causes inefficiency and higher costs.
What did KINX do?

Flexible choices of circuits at KINX IDCs.
e-motion reduced its management costs since it was able for e-motion to choose the right circuit for the optimized and shortest routing paths. This made e-motion spend significantly reduced costs to operate the app, 1Km, because various circuit options from multiple telecommunicators. Since the optical network units of six domestic common carriers are located in the same space, it is easy to select and use circuits by considering ISP's operation policy, relationships with common carriers, charges, etc.
Effect

Various circuits are available for operating a global app service.
There are many risky factors to launch a new business and this was not exceptional for e-motion; hence, cost reduction for start-ups is crucial and KINX service helped e-motion to reduce start-up costs by offering flexible options minimized transit costs. Through KINX IDC, e-motion used various types of transits and could operate a global app service at an inexpensive price. With KINX IDC and neutral services, e-motion was able to develop and operate a popular app downloaded more than one million times.