Introduction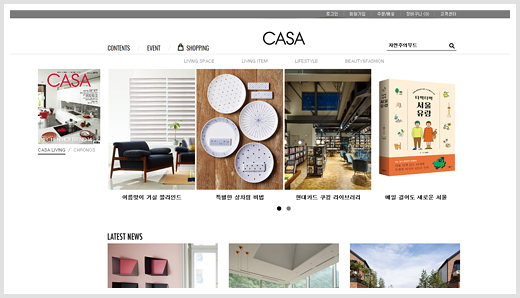 Living specialty portal site, CASA
'CASA' is the No.1 living specialty portal site managed by 'STYLECASA Inc.' in living interior part. Casa provides not only practical interior accessories at reasonable prices but also monthly magazine called 'CASA LIVING'. High-class lifestyle classes are also offered by CASA and it plays a big role in operating a portal site including both living and lifestyle areas.
Background

Website loading speed to load image files became much faster
Before using KINX CDN, CASA operated over 10 million image files by the internal image caching server. After using KINX CDN BMT, Casa received a test result that image loading speed needed much more improvement. Based on the test result, CASA chose CDN web/image cache service from KINX after reviewing the condition of service quality, speed, price and other components.
What did KINX do?

Provided web/image delivering (caching) service with Edge Servers
After a meeting with CASA, KINX suggested CDN Web/Image delivering (caching) service. KINX CDN cache service made CASA save frequently used image files on the Edge server and this made the image files loaded much faster on the website. Also, traffic congestion became prevented after CNAME delegation without service downtime.
Effect

Remarkable improvement of loading speed and IDC cost saving
With KINX CDN service, the loading speed of CASA website became remarkably improved and CASA could provide faster and more stable service to their users. This improvement not only distributed the traffic of internal image server but also saved infrastructure operating costs.