Stable International traffic exchange.
Remote Peering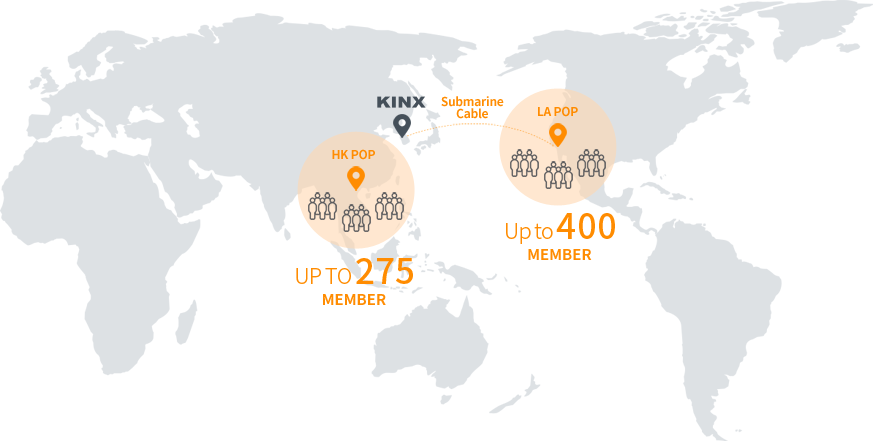 KINX, global infrastructure company, offers smooth Internet connectivity interconnected PoPs
(Point-of-Presence) in Hong Kong and Los Angeles.
Providing fast speed and reliable quality from KINX in Seoul to L.A. with submarine cable
275 members and 400 members at Hong Kong and L.A. PoPs respectively
Strengths
of Remote Peering
Interconnection with global ISPs
Global ISPs, who are already KINX peers, can be simply linked to our backbone network by using our international transit.

Internet Services Quality Improvement
The direct interworking among ISPs via remote peering minimizes latency, providing with customers optimized paths and high service quality.

Transit cost reduction
The establishment of a single circuit allows traffic connection with the company being linked to the KINX IX center, saving circuit cost.

Efficient Interconnection with IX members
IX is an easy way to interconnect with existing peering members due to flexible and neutral IX policies with KINX.

Great Performance of Remote Peering
Not only fast speed but also reliable connectivity are provided via KINX Remote Peering.

IX (peering) structure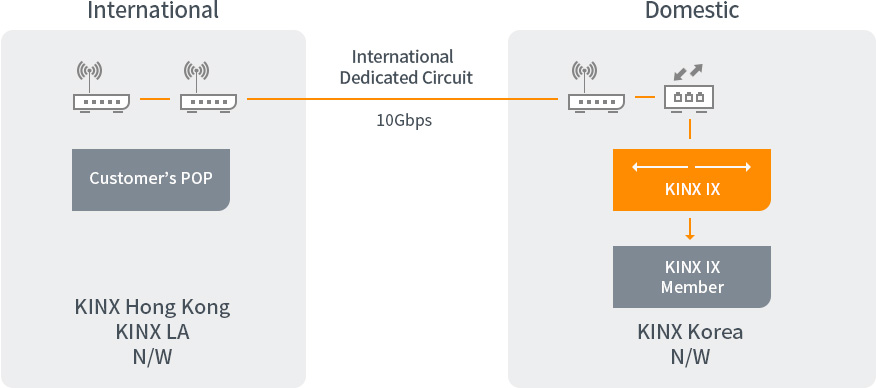 KINX's main role is to connect customers and KINX IX members for better telecommunication.
Global enterprise can interconnect with KINX IX.
KINX
Remote Peering Services
Services
Information
IX-PORT
(L2 IX)
lease 100Mbps / 1Gbps / 10Gbps switch ports
Dedicated Circuits
dedicated circuits from global PoPs to KINX IDC
* For more information, please contact our sales team (Tel: 82-2-526-0900, Email: sales@kinx.net)
* Information above can be changed depending on business circumstances.
KINX
Cases of Remote Peering
"KINX, who serves 17% of the Korean eyeballs,
provides cost-efficient services and constructs reliable networks."

For inquiries
about
Remote Peering