LAST ORDER
Service CloudHub®
Sectore-Commerce
LAST ORDER, the first online closeout sale platform in Korea. The resources of LAST ORDER and the affiliated convenience stores were connected by dedicated lines through KINX.
#efficientmanagement #improvedservicequality #rapidserviceoperation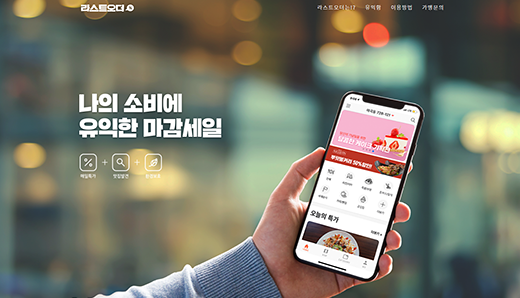 Introduction

A discount platform that delivers the value of rational consumption and environmental protection
LAST ORDER is the first closeout sale platform in Korea. LAST ORDER provides a service that connects consumers trying to buy food at low prices and sellers trying to run out of inventory. They were designated as an environmental preliminary social enterprise in recognition of its resolving environmental problems by reducing waste food.
Last Order, officially launched in 2018, has grown rapidly and currently has 1 million app downloads and 400,000 monthly unique visitors, accelerating the realization of the social values of rational consumption and environmental protection. They have recently added additional stores such as convenience stores, superstores, and department stores as well as local restaurants and dining franchises.
Background

Seeking strategies to link the product information of convenience stores nationwide in real-time
LAST ORDER was preparing to partner with convenience stores to expand the scope of service provision. Their plan was to have convenience stores register products that are about to expire in the LAST ORDER application and create a system that allows consumers to pay and receive them in stores. As a result of thinking about how to link product information of 10,000 convenience store stores nationwide in real-time for that matter, they decided to use AWS Direct Connect, which can provide high transmission quality, security, and stability even when transferring data frequently.
What did KINX do?

AWS Direct Connect specialized consultation and service support

KINX, Korea's first G and M class partner with AWS Direct Connect, suggested the optimal connection plan that meets the needs of the LAST ORDER based on many years of know-how. First, consultation for network configuration was conducted for on-premises resources of affiliated convenience stores and LAST ORDER to be connected with AWS VPC. Configurations for the on-premises network and AWS Direct Connect network were also supported through low-speed lines. KINX helped make it easier to use AWS Direct Connect by providing services such as physical router lease and BGP configuration support.
Effect

Quick and reliable provision of real-time product information to customers
After completing the AWS Direct Connect configuration with KINX, LAST ORDER was able to successfully connect the IDC resources of the affiliated convenience stores to the AWS VPC. As a result, it enabled them to provide customers with various closing discount products through a quick and reliable reflection of product information that is about to expire of convenience stores that fluctuate in real-time. This closeout sale service of convenience store recorded a cumulative sales volume of 140,000 in just one month of launch and gained a great response. Last Order was able to operate the service smoothly based on a stable network.