Kia Motors
Service Colocation, IX Peering, IXcloud®
SectorGame·APP·SW, IT·IC
The Kia Motion app from Kia Motors won the Grand Prize at the 2015 Mobile Awards Korea. Through KINX's hybrid cloud service, the company has been able to provide highly reliable service and cut operating costs at the same time.
#costreduction #reliableserviceoperation #안정적인서비스운영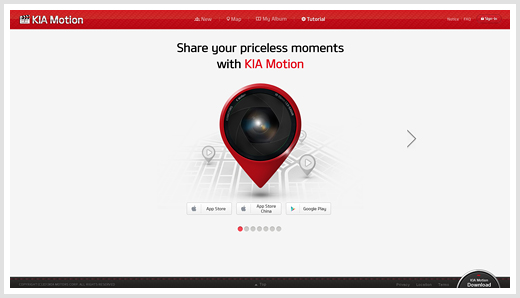 Introduction

A Global Automobile Manufacturer That Consistently Provides Convenient Features for Customers
Kia Motors is a global company that is continually pursuing innovations for customers and Korea's leading automobile manufacturer. The auto maker has been developing and providing various smartphone applications such as Kia Red Members, Kia Motion, and QFriends for marketing purposes as well as for customer convenience.
The Kia Motion app, in particular, was built and is being distributed through our cloud and colocation service. It is a video production app made directly by Kia Motors to communicate with customers in line with digital trends. The app was awarded the Grand Prize in the automobile category at the 2015 Mobile Awards Korea.
Background

Seeking Hybrid Solution for Interconnection with Existing High-Spec Server
The Kia Motion app created by Kia Motors is a free video production app. By selecting the video effects and music available on the app, users can easily create an interesting video and download it to their phone or upload it directly on their social media pages to be shared with their friends. In order to operate this app service, Kia Motors needed a high-specification server for encoding high-definition videos, a server to communicate with users, and a database server.
What did KINX do?

Hybrid Solution Combining Cloud and Colocation Services
We proposed a hybrid solution that involved setting up the high-end server in Kia Motors' possession at one of KINX's IDCs based on our colocation service and setting up a general server and a databased server required for operating the app service in a cloud environment.
KINX's cloud service, IXcloud presents an advantage in that managed services are provided by technical personnel, armed with unrivaled experience and skills in OpenStack development and operation, with customer satisfaction as the top priority.
On top of that, KINX's colocation service guarantees the best network environment and 24/7 technical support by specialized engineers. By ensuring more professional management and operation compared to the direct server operation by the customer, we help dramatically reduce operating costs.
Effect

Flawless Service Operation with Perfect Combination of the Existing Server and New infrastructure
In a rapidly changing business environment, building a hybrid server is becoming a necessity rather than an option. Through KINX's hybrid solution (cloud + colocation service), Kia Motors was able to kill two birds with one stone: provide the Kia Motion app service with high reliability and reduce operating costs.