E-learning
Overview
The explosive growth of the e-learning market is often attributed to the recent technological progress.
The 3.5 trillion-won market has been experiencing the annual growth of more than 10% since 2009.
The Korean e-learning companies are expanding its business to neighboring countries.
Most recently, the demand for e-learning is increasing in the Middle East, China, and India with the improvement of ICT environment.
2014 E-Learning Market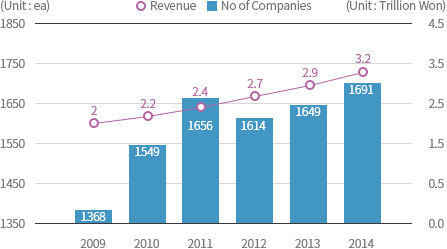 E-learning is mostly based on streaming, which requires content distribution and security solutions as well as LMS.
In addition, connecting to existing database using API is crucial
Reports on content delivery, seamless connectivity to global locations, and compatability with various mobile devices must be supported
Meet KINX, the best E-learning solutions and know-how on management.
Seamless streaming solution to deliver e-learning content
Security solution (blocking URL hooking, encryption, access control, mobile DRM)
Transcoding to any types of media
Cost-effective and efficient storage
Flexible and scalable infrastructure that could absorb traffic surge during events
Management system for administrators
Global network sourcing and planning capacity
Professional and customized consultation
Case Study
Check how KINX and its customers solve the problems
Service Details
Meet KINX services

If you are
Global E-learning comany
For inquiries
about
KINX Service