Attack detection & analysis, protection system
IPS/IDS

IPS is a network security system that detects, analyzes and blocks variety of evasion such as exploit,
attack or malware to a target network or system.
Wins Sniper IPS Series

IBM GX Series
Features
National CC certified device rental
24/7 real time monitoring and blocking
Analyze and provide reports on evasion events
Control network packets trespassing into network
Self-learning, behavior-based detection
Blocks when similar type of traffic flows in
offers flexibility without changing network or packets
Notice

IPS/IDS service is for KINX IDC customers only.
Please consult any details with sales representatives. Fees may be charged on additional request
(Contact 02-526-0900 / sales@kinx.net)
IPS Service
Diagram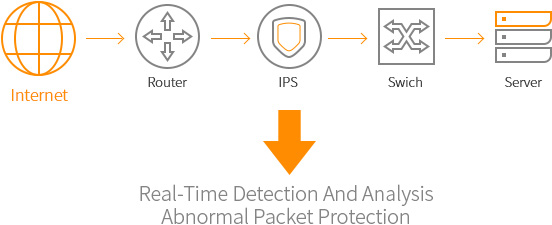 24/7 Monitoring Service

Do you have the world class machines and solutions for your service but no professional engineer?
KINX will provide you 24/7 monitoring service with professional engineers who can handle with any emergency
situations on your network.
Items
Content
Integrated Monitoring
24/7 Network Performance Monitoring
24/7 System Performance Monitoring
24/7 Security events monitoring
24/7 Service outage monitoring and responding
Proactive and real time response
Network presensing and handling
Respond to evasion with two-level team
Consistent support from declaration to completion
CERT Team
Analyze trend about new internet vulnerability information in the world
Real time change amount analysis(level of risk)
Registration of signature about the information of vulnerability on service port
Reporting Service
Monthly report
Report on service outage and processing report
Help Desk
Security technique support
Receives customers service improvement requests
For inquiries
about
IPS/IDS