DDoS protection with KINX
SOS service

K-Clean protects DDoS attacks by delegating domain.

L7-equipment installed in K-Clean zone does caching a customer's server
It is one way for instant protection/prevention against DDoS.

The fastest way to protect by delegating domain.
Apply for SOS service,
if you are experiencing DDoS attack!
Apply for SOS service
SOS features
L7 caching
TCP attack protection and detection of abnormal packets
list IP addresses triggering DDoS attacks and prohibit access
interconnect PC security solutions with inner Bonnet
24/7 technical supports for providing optimized service and DDoS attack log & report provided
Global DDoS attack prevention (optional)
SOS Service
Diagram

Through domain delegation to KINX K-Clean Zone, your websites will be protected from DDoS attack.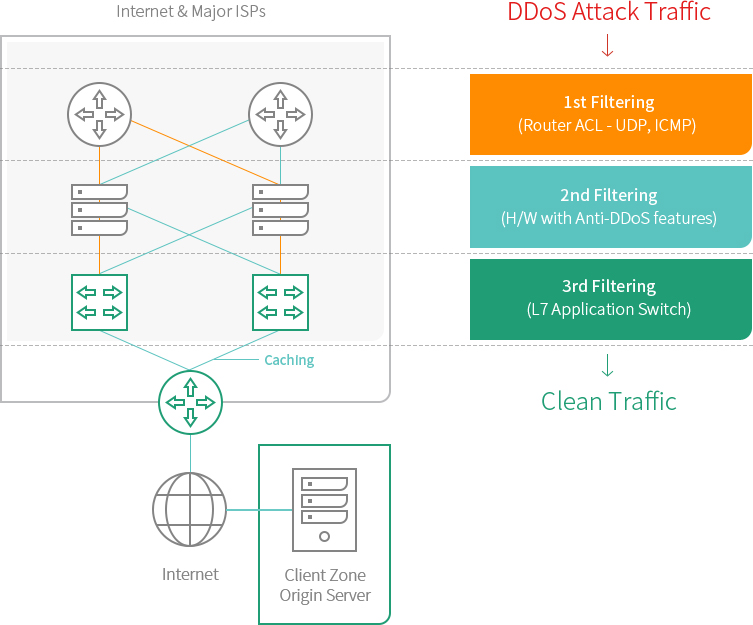 Global Service
(Optional)

By using anycast and caching on KINX global CDN PoP, KINX mitigates the massive DDoS attack onsite.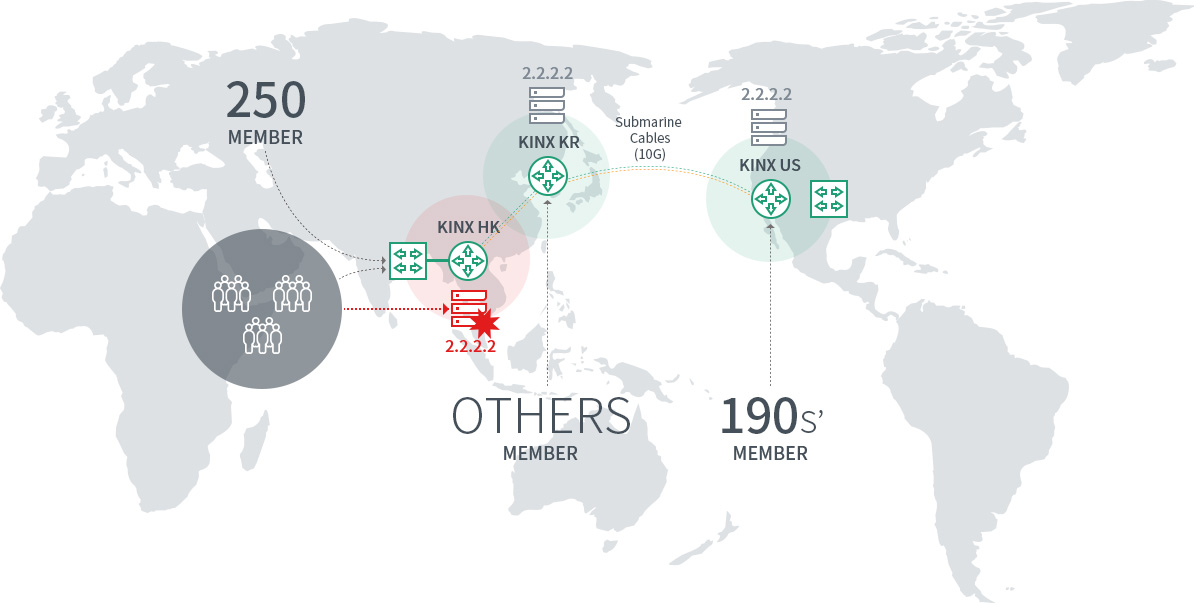 K-CLEAN service features

| Section | SOS | Anti-DDoS | GRE | Circuit |
| --- | --- | --- | --- | --- |
| ICMP, UDP Filtering | ○ | ○ | ○ | ○ |
| IP | ○ | ○ | ○ | |
| TCP | ○ | ○ | ○ | |
| UDP | ○ | ○ | ○ | |
| ICMP | ○ | ○ | ○ | |
| LAND | ○ | ○ | ○ | |
| UDP Flooding | ○ | ○ | ○ | |
| ICMP Flooding | ○ | ○ | ○ | |
| SYN Flooding | ○ | ○ | ○ | |
| TCP Flooding | ○ | ○ | ○ | |
| HTTP Flooding | ○ | ○ | ○ | |
| Fragment Flooding | ○ | ○ | ○ | |
| L7 Pattern | ○ | ○ | ○ | |
| Spoofed IP | ○ | ○ | ○ | |
| DRDoS | ○ | ○ | ○ | |
| URL Behavior Anomaly | ○ | ○ | ○ | |
| Caching Behavior Anomaly | ○ | ○ | ○ | |
| DNS Query Flooding | ○ | ○ | ○ | |
| DNS Amplification | ○ | ○ | ○ | |
| SYN Flooding | ○ | ○ | ○ | |
| Abnormal IP | ○ | ○ | ○ | |
| SSL Performance (SSL Offload) | ○ | | | |
| HTTP Acceleration / Optimization | ○ | | | |
| Load Balancing | ○ | | | |
| Health Monitoring | ○ | | | |
| GRE Tunneling | | | ○ | |
| Entire Subnet defense without change of IP | | | ○ | |
For inquiries
about
K-CLEAN SOS