International enterprises prefer KINX's IDCs

Strengths of KINX IDC
Optimal network environment using IX network
KINX is Korea's unique L2-based IX (Internet eXchange) carrier. KINX IDCs provides services through broadband directly connected to major ISPs at home and abroad.

IDC is equipped with optimized infrastructures
This is IDC equipped with optimized network environment as well as buildings, infrastructure, power, cooling & heating system, and security facilities.

Dogok, Gasan, Bundang IDCs
IDCs are located in Seoul and the metropolitan area easily accessible by clients; convenient for transportation and easy to access.

Professional engineers' 24/7 technical support
Professional engineers stay around the clock in IDCs, monitoring servers and networks to provide integrated management services.

Free selection of circuits
Since the optical network units of six domestic common carriers are located in the same space, it is easy to select and use circuits by considering ISP's operation policy, relationships with common carriers, charges, etc.

Limitless daily traffic
KINX ensures sufficient and fast circuits and also provides additional circuits at low cost if needed. (100M of basic bandwidth shared & 10Mbps guaranteed)

KINX Data Center

IDC facilities

Seismic design reflecting local seismic design regulations

Grounding construction conforming to international regulations

CCTV monitoring

Convenient location in the center of Seoul

Cooling System

Maintaining optimal levels of temperature and humidity (23± 2 ℃, 30 ~ 60%)

Automatic alarming by leakage detection cable

Optimizing HVAC system by installing raised access floors: power tray in the lower floor and communication tray in the upper floor

Cooling through a temp-regulator and mixing the air during the winter

Security Control Facility

24/7 surveillance & residence

Strict identity management through personal ID and fingerprint verification system

Quick response to various failures by introducing NMS & What's Up system

Center access control, support for members' works, provision of members' traffic analysis data

Fire Protection System

Automatic fire detection system & emergency alarm system

Clean gas fire-righting equipment (FM-200)

Environmentally friendly fire extinguishers

Power Facility

Power substation : Extra high-tension large-scale system to secure ideal electric power

UPS system : N+1 composition, stable power supply and design of 30-min BATT Back Up Time (full load)

Emergency power supply system : Supplying power within 8~12 seconds upon blackout; securing fuel enough to run emergency operation for over 12 hours upon blackout

Power system for computer center : Double power supply by rack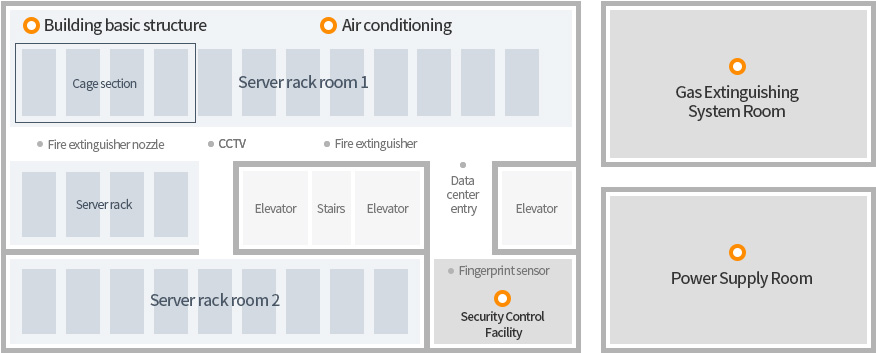 * Click for larger image (non-mobile friendly)

IDC facilities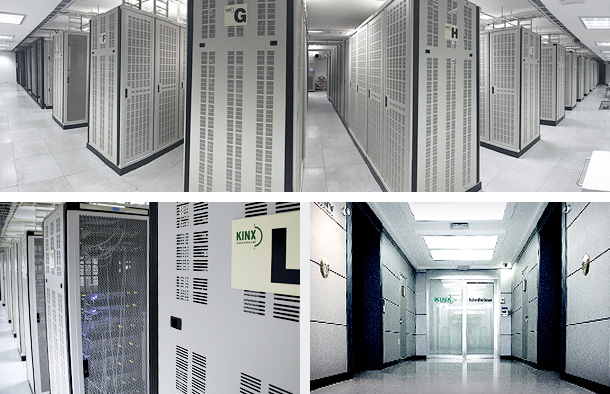 Seismic design reflecting local seismic design regulations
Grounding construction conforming to international regulations
CCTV monitoring
Convenient location in the center of Seoul
Cooling System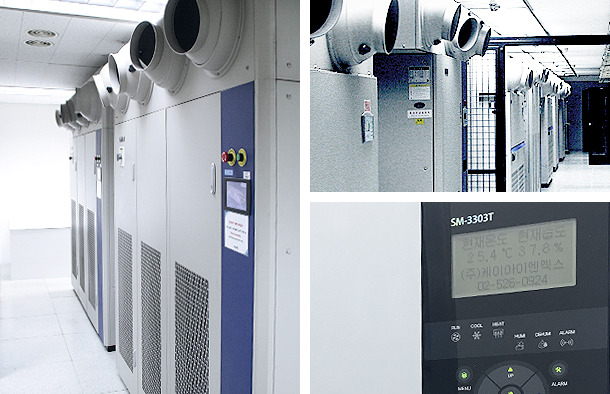 Maintaining optimal levels of temperature and humidity (23± 2 ℃, 30 ~ 60%)
Automatic alarming by leakage detection cable
Optimizing HVAC system by installing raised access floors: power tray in the lower floor and communication tray in the upper floor
Cooling through a temp-regulator and mixing the air during the winter
Security Control Facility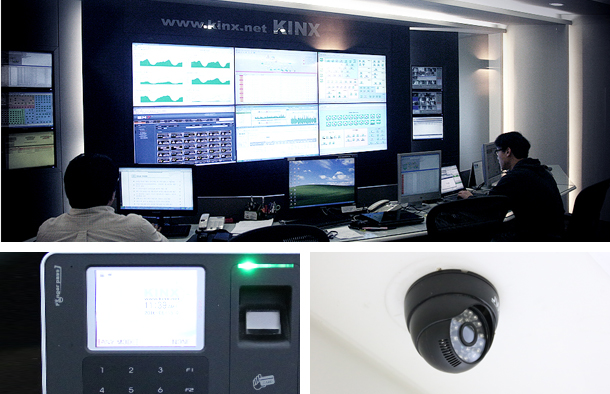 24/7 surveillance & residence
Strict identity management through personal ID and fingerprint verification system
Quick response to various failures by introducing NMS & What's Up system
Center access control, support for members' works, provision of members' traffic analysis data
Fire Protection System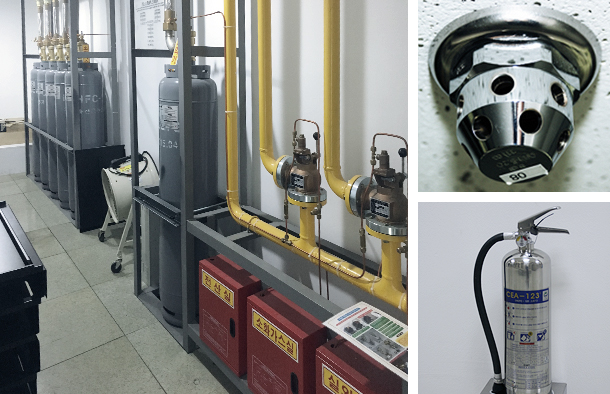 Automatic fire detection system & emergency alarm system
Clean gas fire-righting equipment (FM-200)
Environmentally friendly fire extinguishers
Power Facility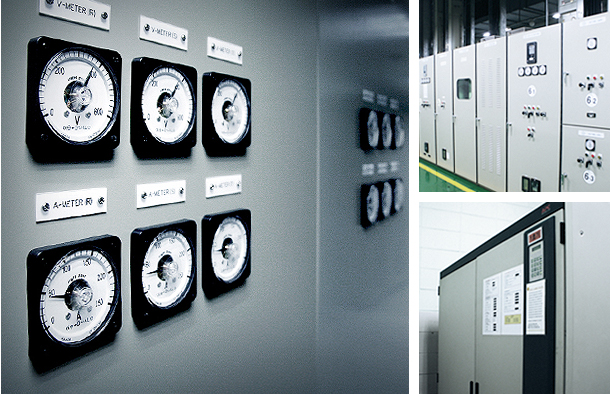 Power substation : Extra high-tension large-scale system to secure ideal electric power supply
UPS system : N+1 composition, stable power supply and design of 30-min BATT Back Up Time (full load)
Emergency power supply system : Supplying power within 8~12 seconds upon blackout; securing fuel enough to run emergency operation for over 12 hours upon blackout
Power system for computer center : Double power supply by rack