Strengths of Our Exclusive Services !
Consult with
our experts.
Try our exclusive and
specialized services.
We also provide customized services.

Tel: 82-2-526-0900(ext.1)
KINX's Global Expansion with Neutral IX(Peering)
KINX provides L2-based neutral IX greatly preferred by many entrepreneurs who need to send traffics to domestic and/or international ISPs at a reasonable price.
KINX's IX (Peering) is the best choice for international transit interconnections and effective line configurations.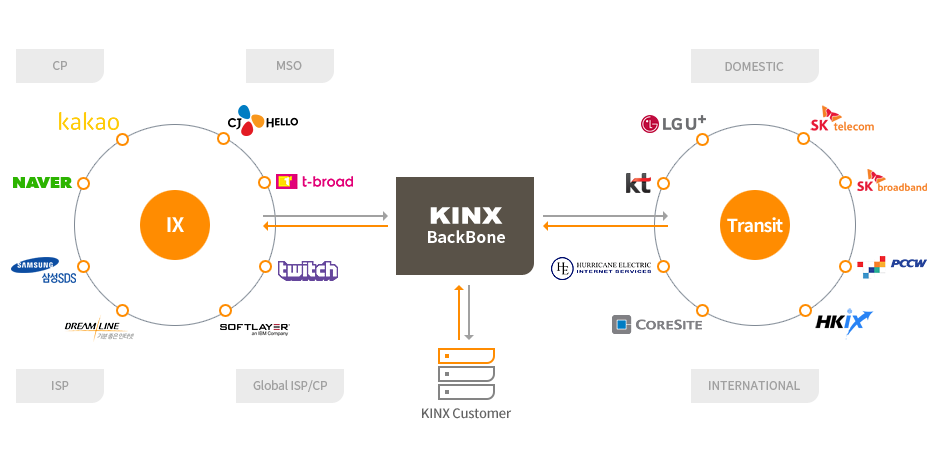 Strengths of using IX provided by KINX
Network Quality Improvement

Shortened waiting times
due to direct interconnections with ISPs

Transit Cost Reduction

Interconnection with peering members
at our center with single line configuration

Autonomous Interconnection Policies

Members can freely choose their peers
based on our neutral IX policies
Expand your business with KINX's Cloud Hub!
Cloub Hub is All-In-One Ecosystem for cloud.
'Cloud Hub' enables access to Multi-Cloud and even various services and soltuions, over a single connection.

Cloud eXchange(CX) for Multi-Cloud over a single line
Cross-Connect to major ISPs, SOs, CPs in Korea without restriction
IDC environment for Hybrid cloud
Various services, solutions can use with Storage, CDN, etc

Cloud Hub provides most reliable and cost efficient services!
More about Cloud Hub
KINX offers optimized direct circuit connectivity designed for faster Internet networks.
The Shortest Network
Connection between centers

High speed and reliability with dedicated
line configuration between centers

All-In-One services
from A to Z

From consulting to line configuration
Providing all ports from 50M to 10G

The best way
for global market expansion

Business expansion with international transit
Optimized services to meet our customers' needs
Choose KINX IDC centers for your global business!
We support configuring a stable and reliable network for your business.
KINX IDC provides up to 1TB backbone network and 24/7 technical supports.

We provide co-location and server hosting services at KINX IDC centers
Premium network services
based on IX network

The only L2 based neutral IX provider, direct
interconnection with major ISPs

Optimized IDC centers
to avoid unexpected issues

Seismic design, lock per rack, 24/7
surveillance & security system, power substation etc.

24/7 technical supports
by professional engineers

Professional engineers manage and monitor
servers and networks for 24/7

Various
value-added services

All-in-One management, DB back-up,
DB-clustering, DDoS prevention, security,
SW lease etc.
IDC Link