Direct connectivity via Cross Connect at KINX IDC
Cross Connect

Two end points are connected within a KINX IDC and dedicated lines provide reliability and security.
· Direct connectivity between ISPs & ISPs, or between ISPs & CPs
· Our customers can freely choose and connect any ISPs at MMR(Meet-Me-Room)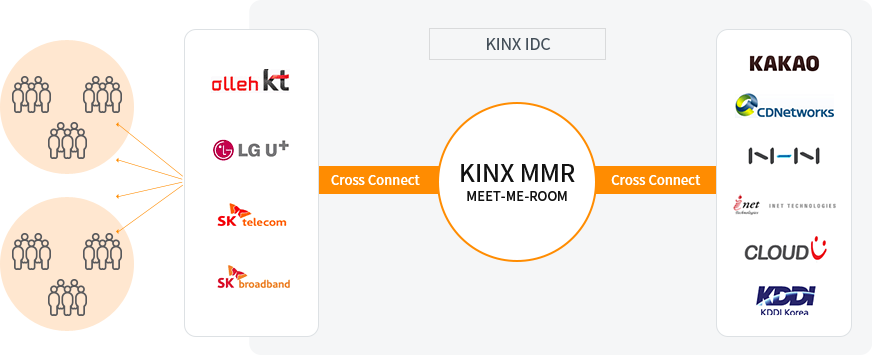 Strengths of
KINX Cross Connect
Various circuit options
Domestic 6 telecommunicators are KINX business partners and their circuits are available through KINX. This will provide more options to choose optimized circuits.

Autonomous interconnection system
Backbone circuits are interconnected at KINX IDCS and KINX customers can freely choose suitable circuit operation policies depending on their business plans.

Dedicated lines for reliability
Dedicated lines provide reliability and fast speed. Private information is much better protected.

Reasonable payment system
Payment is not determined by connection duration and it helps to reduce transit costs.

KINX Cross
Connect
structure


KINX Cross
Connect
Services

Services
Information

In-Housing Cabling

CCI

· Cable Connection within KINX IDCs among telecommunicators

(Customers to Carrier Interconnection)

PNI

· interconnection (Private Network Interconnection) among KINX customers within KINX IDCs

☞ Coaxial cable(RG-179) / UTP cable(CAT-5) / Optical cable/ others
* Contact KINX Sales group about more detail including price and contract conditions
KINX Cross
Connect cases
"Cross Connect services provide limitless bandwidth within KINX IDCs and this allows us to save transit costs and use reliable Internet networks. "

For inquiries
about
Cross Connect