Expand your business to China with KINX!
China
Direct Connect


Have you experienced low speed and unstable connectivity to China?
We have a better alternative for you. Fast and stable connectivity via dedicated lines (CN2) will take your frustration away! China Direct Connect (CDC) reaches at Gateways and delivers online contents to Chinese end users via CN2 from CT (China Telecom). It is unnecessary to relocate your business to China since CDC will provide easy and fast connectivity from home while reducing operational costs.
KINX CDC is the only way to improve connectivity to major cities in China with premium network, CN2.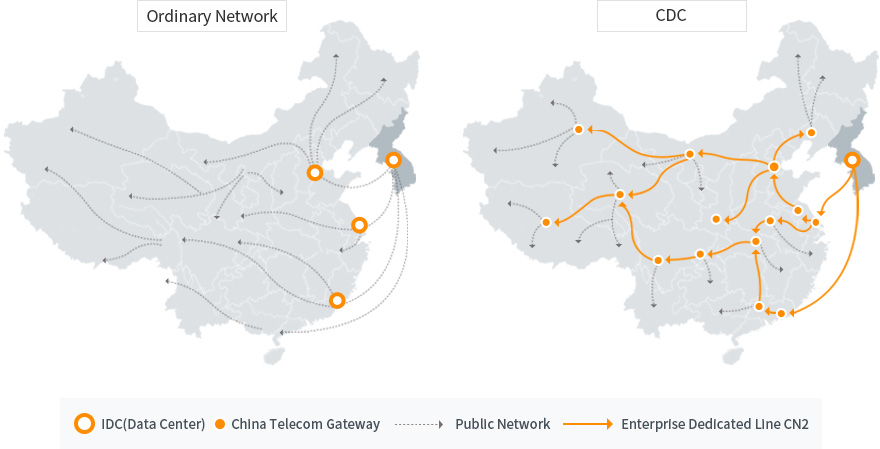 Compare
services

Server Hosting in China
China Direct Connect (CDC)
Private Network

Lines

Regular lines

Dedicated lines (CN2)

IPLC, IEPL, MPLS

Costs
(10Mbps)

About ₩200,000
Additional cost :
① Domestic IDC cost
② Dispatch cost

About ₩1,500,000
Including 24/7 management
by professional engineers

About ₩15,000,000
Additional cost :
① IDC cost
② Operation staff

Speed

Slow

Fast

Fast

Reliability

Low
(frequent disconnection)

High

Very high

Server location

China (domestic IDC)

Korea (KINX IDC)

Korea

Human Resources

Remote support or
Dispatch

Experts from KINX IDC

Own staff

Quality assurance
section

Unclear

Middle mile

End to end

Security

Weak

Normal
(When using VPN, improved)

Strong
Strengths of using China Direct Connect (CDC)

Dedicated circuits - CN2

There are only 3 centers for IX(Internet eXchange) in China , which this lack of infra is quite problematic because of traffic congestion . While the Internet speed in Korea is 22Mbps, 4.2 billion Chinese eyeballs barely get 2 Mbps speed from Chin@Net. China Telecom, the largest telecom company, set up its private lines called CN2 to provide faster Internet services for the Chines eyeballs. Hence, KINX using CN2 is able to exchange traffic at a fast and reliable rate.

Entering the Chinese market with CDC

We recommend CDC for a company who is looking for opportunities either to expand its business to China or to meet increasing demand for fast and reliable network services for the eyeballs in China. CDC with CN2 dedicated circuits can minimize risks of losing customers due to high latency and low quality of Internet network performance. CDC is the fastest way to cover 9.5 billion eyeballs in China.
Pricing

Annual contract base (KWD)
Conditional traffic
10Mbps
30Mbps
50Mbps
100Mbps

Monthly costs

₩1,500,000

₩3,600,000

₩5,000,000

Costs per 1Mbps

₩150,000

₩120,000

₩100,000

negotiable

Costs per 1Mbps when
the traffic exceeds

₩180,000

₩150,000

₩120,000
Annual contract base (KWD)
| Conditional traffic | 10Mbps | 30Mbps | 50Mbps |
| --- | --- | --- | --- |
| Monthly costs | ₩1,500,000 | ₩3,600,000 | ₩5,000,000 |
| Costs per 1Mbps | ₩150,000 | ₩120,000 | ₩100,000 |
| Costs per 1Mbps when the traffic exceeds | ₩180,000 | ₩150,000 | ₩120,000 |
Value-add
Services


structure
Protect your business with VPN Security service.
We rent CDC-Only VPN Security equipment at reasonable price.
Products

Standard VPN (FG/FWF-60D)
₩200,000/month


Premium VPN (FG-100D)
₩300,000/month

Concurrent sessions

500,000

3,000,000

Firewall policies

5,000

10,000

IPSec VPN throughput

100 Mbps

450 Mbps

Interfaces

UTP 10/100/1,000 Port x 10ea

UTP 10/100/1,000 Port x 20ea,
Fiber 10G Port x 2ea

Common Specification

Duration: 12month / 24/7 technical support
* surtax excluded
CDC is useful for many cases


"Did your computer freeze again while playing a computer game?
Or does your company need to improve the network connection between China and Korea?"
If you experienced a lag while playing an online game, your enjoyment significantly decreases.
The number of gamers may significantly decrease due to dissatisfaction of gamers and eventually it affects the game company's sales.
China Direct Connect provides fast and reliable Internet networks.
Gamers in China can access Korean online games due to reliable networks provided by KINX.

An online shopper in China: "I've waited for buying this skirt from a Korean online shopping mall,
but it takes forever to fully load this website"
"I might use a different online shopping mall operating a faster website"
It is so inconvenient to use a Korean online website in China due to the slow Internet. Especially online websites include a lot of images, flash, video clips which require more time to fully load them. Web pages translated in Chinese and the faster Internet network with CDC would increase chances to attract Chinese shoppers.

"Global enterprise: " I need to send a sales statement between two different branches in China and Korea"
"I need to organize an teleconferencing with colleagues from Belgium but our Internet network is very unstable"
Since many companies expand their business globally, communication is not limited to local anymore. Although business transactions can be more simple by using a public network, it does not guarantee stability. Communication with globally distributed branches will be much better with China Direct Connect while communicating with fast and stable Internet networks. Work efficiency increases when you can communicate with others no matter where you are.
For inquiries
about
China Direct Connect

China Direct Connect VPN Security Service Structure