KINX IDC offer reliable server operation
Introduction of Services
Service Products
KINX
strengths of server hosting
Optimal network environment using IX network
KINX is Korea's unique L2-based IX (Internet eXchange) carrier. KINX IDCs provides services through broadband directly connected to major ISPs at home and abroad.

IDC services optimized to server
KINX IDC provides the optimal environment where servers can be managed in a safe and efficient manner. This is the cutting-edge IDC in seismic design equipped with locking device by lack, strict security management, UPS, etc..

Support of various additional services
KINX offers various services necessary to run servers such as integrated operation & management, DB back-up, DDoS blocking, security, etc. Clients can select the server that is fit for
the purpose of use.

Professional engineers' 24/7 technical support
Professional engineers stay around the clock in IDCs, monitoring servers and networks to provide integrated management services.

Purchase of server at cheap price
KWe provide clients with servers at far cheaper price than an individual purchase, and also offer consultation to help purchase products that are fit for the purpose of use.

Limitless daily traffic (100M of basic bandwidth shared & 10Mbps guaranteed)
KINX ensures sufficient and fast circuits and also provides additional circuits at low cost if needed.

Server Hosting Structure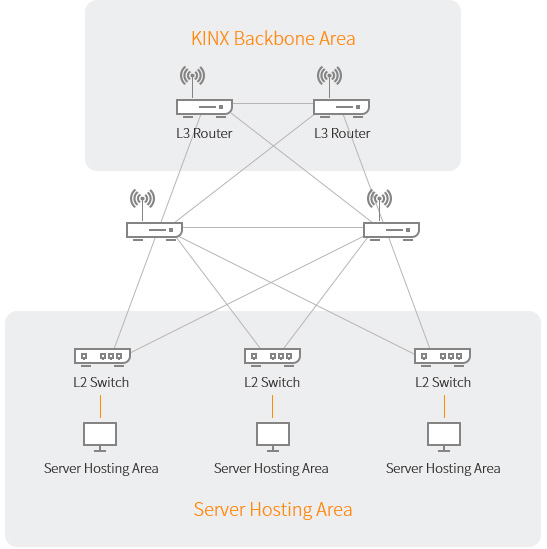 What is Server Hosting?

Server hosting is a service that provides clients with desired optimal servers for lease or purchase.
If you use server hosting, you can use performance-proved server and network infrastructure at cheap price as well as receive professional engineers' support needed to run severs. More efficient and stable operation is ensured through diverse additional services such as back-up, security, monitoring, etc. The ownership of leased devices can be transferred to clients after the contract is expired.
For inquiries
about
Server Hosting